Redistricting Community College
CHARGE, Coalition Hub Advancing Redistricting & Grassroots Engagement, is a space for groups that organize people in the states and in local communities. While each organization brings different skillsets, has presence in different states, and deploys different strategies, we are all united around the common goal that redistricting must be transformed to allow more voices to participate, be heard, and ultimately be represented.  
We are committed to empowering people who have intentionally been excluded from voting and electoral politics to have a seat at the redistricting table.  We are grounded in the reality that, as important as this process is, redistricting is NOT at the top of most people's minds and we need to build points of entry that meet people where they are. 
CHARGE has nine organizations who anchor the work: APIAVote, Center for Popular Democracy, Common Cause, Fair Count, League of Women Voters, Mi Familia Vota, National Association for the Advancement of Colored People, National Congress of American Indians, and State Voices. 
Redistricting Community College Trainings
Traditionally, redistricting has been a secretive and exclusive process. CHARGE designed the Redistricting Community College so your community can actively engage in the 2021/22 redistricting process – at every level of government – from school board to congressional redistricting. 
The CHARGE Redistricting Community College is a 6-part series. From beginning to end, the entire training is 4 hours. The live trainings include breakout workshops to give you hands on practice.  
Here are the training dates:
Wednesday, May 12, 2021: 3 pm – 6 pm ET / 2 pm – 5 pm CT / 1 pm – 4 pm MT / 12 pm – 3 pm PT / 9 am – 12 pmHI. Register here.
Saturday, May 22, 2021: 12 pm – 3 pm ET / 11 am – 2 pm CT / 10 am – 1 pm MT / 9 am – 12 pm PT / 6 am – 9 am HI. Register here.
You can also check out the Presentation slides, videos and materials below. You can watch them all in one sitting or pick and choose based on what you need to know.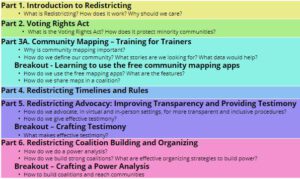 See the training materials for each section below.