The Devastating Accuracy of #MoscowMitch and Devastating Inaccuracy of Buck Sexton
08.7.2019
/ By Scott Blaine Swenson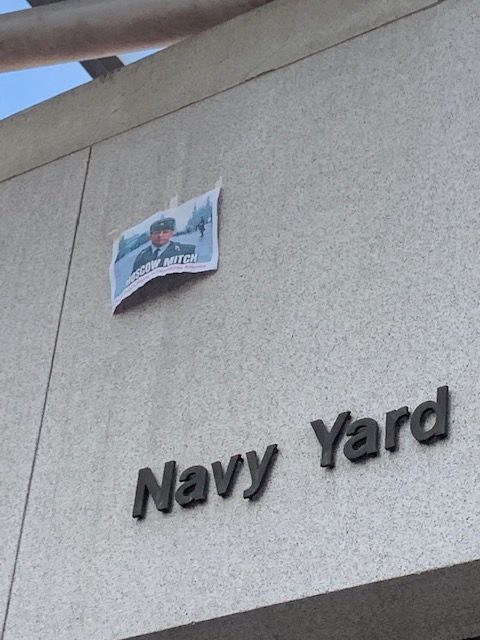 Note: This piece was edited after posting to reflect accurate figures for one of the Senate bills and provide some additional comparative context for that bill. 
Politics is a series of moments that, over time, frame issues and define candidates — occasionally with such devastating accuracy that the politician targeted is forced to react. Last week, #MoscowMitch blinked. Vulnerable Senators in his caucus must be growing anxious.
The photo, snapped this morning on my descent into metro juggling bag, juice, and phone/camera, is the first evidence of what is likely to be an avalanche of #MoscowMitch popping up all over. While small and singular, this sign is a harbinger of more to come in the proud tradition of street art and other ways we express ourselves outside of the typical political debate. These cultural expressions cut out the filters of media, parties, and politicians. With the most basic of tools — pen and paper — and creative use of free speech that, with a little ingenuity and daring, can appear in surprising places and speaks directly to the people.
This is a small sign in a strategically significant place and makes me wonder where else they are already popping up. The Navy Yard Metro Station in DC is across the street from the Department of Transportation and thousands of employees ride these escalators every day. DOT Secretary Elaine Chao is not one of them, her security detail ensures she won't see this sign, but as the wife of #MoscowMitch, herself likely a subject of ethics investigations into her handling of DOT contracts for her husband's home state of Kentucky, she won't avoid all of them.
And while the #MoscowMitch meme seems to have struck McConnell's last nerve with pinpoint accuracy, it is the devastating inaccuracy of conservative talk show host Buck Sexton on Real Time with Bill Maher last week that is so wildly off the mark it only serves to polarize an issue of our national security and sovereignty, something Republicans once considered essential to their identity.
On the show, Sexton was asked why conservatives aren't up in arms about the failure of Trump and McConnell to secure our elections and how anyone can justify their inaction. Sexton repeated two or three times that Congress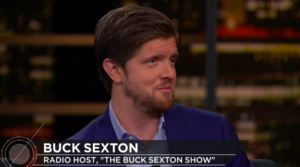 allocated $380 million dollars last year and asked, "when is it ever going to be enough."
One of the bills #MoscowMitch prevented from coming to the floor of the Senate is the House-passed SAFE Act has a price tag of $600 million on it. The party-line vote in the House, inexplicable in a time when our intelligence community and the FBI say we are under attack, boggles the mind.  There are now three bills being held hostage by #MoscowMitch, including the bipartisan Secure Elections Act. Experts in cybersecurity and election technology estimate costs could range up to $1.3 billion to give voters the assurance they need. When some corporations are paying cybersecurity experts high seven-figure salaries to protect their products, consumer, and sales information, it's easy to see how defending our democracy and securing the people's votes and our sovereignty isn't something we should do on the cheap.
When the Cold War was hot, how much was enough to defend America, Buck?
The Trump military budget continues to grow, so evidently it's okay to spend more on to protect us from bombs, and bullets, but not gigabytes? Is that right, Buck? And it's a fraction of what he wants for his worthless wall.
We were attacked by Russia. How much is enough to protect the people's voice in our democracy, Buck?
For every American patriot who served in the military defending our values and for every American patriot who marched, protested, and served by working to extend the promise of democracy and secure the right to vote for more and more of our fellow Americans, let's all hope some sanity and common sense will return to a political party that very few of us recognize.
The good news is not all conservatives are ready to turn our elections over to Russia. In 2018, nonpartisan Common Cause worked in coalition with conservatives and liberals who understand the importance of election security and produced a report on one aspect of protecting our elections, preventing online voting. The report, Email and Internet Voting: The Hidden Threat to Election Security, was co-authored by experts able to set ideology aside and realize the integrity of our elections is of the utmost importance. Experts from the National Election Defense Coalition, R Street Institute, ACM US Technology Policy Committee, and Common Cause, jointly wrote and released the report.
Let's advance our shared values a put country over any political party because strengthening the people's voice in our democracy, not Vladimir Putin's, is everyone's common cause. Right, Buck?