The Week One Legislative Wrap Up
01.24.2015
/ By Heather Ferguson, CCNM Campaign Manager
The Week One Legislative Wrap Up
Whew! The first wild week of the 2015 legislative session wrapped up with the House and Senate adjourning until Monday the 26th. It has been a flurry of activity at the Roundhouse with the new majority party in place, and they came right out of the gates with some big changes!
On Thursday January 22, the House floor took up HR1 to change House rules and introduce new committees.
After two hours of floor debate, the bill passed on a 37-30, party-line vote. House Majority Leader Nate Gentry, R-Albuquerque, stated in Wednesday's committee hearing that these changes were meant to make bill assignments to committees more efficient, as well as increase public access and participation by the public by starting committees on time and with a clear and published agenda. Those are initiatives Common Cause New Mexico fully supports!
Common Cause New Mexico had concerns regarding the initial restructuring of these committees, which was the removal of a dedicated "Voters and Elections" committee. This was addressed in an amendment to HR1 which added the name "Elections" back to the committee of "Government and Indian Affairs." This committee will be chaired by Rep. James Smith R-Albuquerque, who is also the recipient of the Common Cause New Mexico's 2013 Best in Government Award! Rep. Smith has been a long time champion of transparency and is the sponsor of one of CCNM's priority bills this session on campaign reporting and disclosure.
Here are a few of the CCNM priority bills introduced so far:
SB058 Campaign Public Financing Changes, introduced by Sen. Peter Wirth, D-Santa Fe: http://www.nmlegis.gov/lcs/legislation.aspx?Chamber=S&LegType=B&LegNo=58&year=15
SJR1 Independent Redistricting Commission, introduced by Sen. William O'Neill, D-Albuquerque and Rep. Carl Trujillo, D-Santa Fe: http://www.nmlegis.gov/lcs/legislation.aspx?chamber=S&legtype=JR&legno=1&year=15
Stay tuned for updates on our legislation being introduced next week!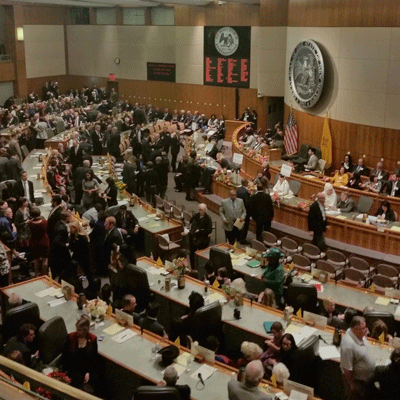 Common Cause New Mexico In the News:
http://nmindepth.com/2015/01/21/groups-want-more-disclosure-of-lobbyist-spending/#
Groups want more disclosure of lobbyist spending
By Gwyneth Doland, New Mexico In Depth
Steak dinners at fancy restaurants, breakfast burritos brought to committee meetings, lift tickets at ski resorts. Every year lobbyists spend big bucks on entertaining, many with the hope that they will get some time to talk with lawmakers about the issues they're working on.
People, Power and Democracy
This story is part of a reporting partnership between New Mexico In Depth, KUNM and NMPBS that attempts to pull back the curtain on how the New Mexico Legislature works and, in some cases, doesn't.
It's been five years since the U.S. Supreme Court's decision in the Citizens United case, which lifted restrictions on expenditures and gave rise to groups known as Super Political Action Committees that have pumped millions of dollars of special interest money into the political system.
That's brought an increased effort by journalists and watchdog groups to give the public more information about money in politics, including tracking how some of it flows between New Mexico lobbyists and lawmakers.
This year several groups are pushing for access to more information about how lobbyists are spending those dollars.
A poll commissioned by the group Common Cause shows that most New Mexicans believe that politicians are corrupt, Executive Director Viki Harrison said Wednesday. That's why lobbyists should disclose exactly what they're paying for and which bills they discussed in meetings with lawmakers.
"If they think that politicians are corrupt, if they think that lobbyists have their ear and the average voter doesn't, then we have more and more disenfranchisement, and people don't want to get involved," Harrison said.
Representatives from Common Cause, Environment New Mexico and the New Mexico Public Interest Research Group used the anniversary of Citizens United to rally in the state capitol Wednesday and draw attention to big money's impact on elections.
In 2010 and 2011 Think New Mexico and others tried to ban all donations from lobbyists—and state contractors. Those proposals didn't pass. So lobbyists have kept giving.
Based on information from the New Mexico Secretary of State's office, from May 2013 through April 2014, individual lobbyists reported spending $443,058 on gifts and meals to lawmakers and elected officials leading up to and during the 2014 session.
Of that spending, 10 lobbyists spent between $10,232 and $27,750 each, for a total of $156,116, or 35 percent of the total spending by lobbyists.
Meanwhile, 73 lobbyists spent between $1,000 and $9,716 each, 39 lobbyists spent between $100 and $999 each, 19 lobbyists reported less than $100 each in expenses and 140 of 281 lobbyists reported no expenses through May 15, 2014.
But while we know how much lobbyists spent over that period, unlike states such as Colorado and Wisconsin, New Mexico doesn't require lobbyists to report what issues or bills they are trying to influence.
According to the Santa Fe New Mexican, Rep. Jeff Steinborn, D-Las Cruces, will introduce legislation that will make lobbyists disclose the bills they are working to influence.
Because of the Supreme Court's Citizens United decision a ban on lobbyists' donations isn't even possible now. So the question is: will state lawmakers agree to more disclosure now?
Citizens' United Event Tomorrow!
Please join Common Cause New Mexico, the League of Women Voters and others on January 24, 2015, at 4:00pm to mark the 5th Anniversary of Citizens United!
Event details at: http://votingmatters.blogspot.com/2015/01/citizens-united-rally-and-forum.html?m=0