Sine Die! And the 2016 New Mexico legislative session has ended!
02.19.2016
/ By Viki Harrison
Sine Die! And the 2016 New Mexico legislative session has ended!
Common Cause New Mexico wants to thank our members, our champion legislators and their amazing staff, our partner organizations and the citizens of New Mexico for an incredible legislative session.
In a short session dedicated to the budget and fiscal matters, transparency and good government was a clear winner – from bills that passed both Houses to those that got only one committee hearing, the progress we saw was because you made phone calls, had visits, sent emails and highlighted stories that connected our elected officials to those issues we care about in New Mexico.
Let's start with the wins
HB 105 Electronic Reporting Requirements sponsored by Rep. Jim Smith and Sen. Daniel Ivey-Soto passed the Senate floor on Wednesday and is now headed to the Governor!
House Bill 105 amends the Campaign Reporting Act and the Lobbyist Regulation Act to require electronic filing of contribution and expenditure reports. The bill requires the Secretary of State's office to maintain the filing data in an open and structured format so that it may be easily searched by the public and to provide for cross-checking and compliance monitoring.
The bill also requires lobbyists to report each expenditure of $75 or more, unlike the current language which allows cumulative reporting. Additionally, the bill requires lobbyists to report whether contributions came from the lobbyist's employer or from the lobbyist on the lobbyist's own behalf.
HB 138 to allow some 17 year olds voting in primaries also passed the Senate on Wednesday and is headed to the Governor!
This fantastic legislation sponsored by Rep. Jeff Steinborn will allow 17 year olds to vote in primary elections if they will be 18 by the general election. If signed by the governor, the bill will not go into effect this year, but in 2018.
HR 1 to archive the House hearings online, sponsored by Rep. Jeff Steinborn, passed and is now a new House rule!
It sounds like such a simple thing – archive the webcasts from the House floor and committees so folks who can't watch live during the day can watch it later, just like we do with any other program.
Some losses along the way
HB 143, sponsored by Rep. Paul Bandy and Sen. Daniel Ivey-Soto, to consolidate elections passed the House before running out of time. This bill will combine elections and hold all elections at the same time year after year so we can increase our participation and save money at the same time! We heard from some advocates about a few concerns and are looking forward to working with the sponsors to move this forward next session.
HJR 1, to create an independent commission to conduct redistricting, passed one committee unanimously in the House, but was never given a hearing in the House Judiciary committee. Many thanks to our amazing sponsors, Rep. Carl Trujillo and Sen. Bill O'Neill – we will be back!
HJR 12, to establish open primaries in New Mexico passed one committee before being tabled in House Judiciary committee. We thank our awesome sponsors, Rep. Antonio "Moe" Maestas and Rep. Stephanie Garcia Richard, who along with New Mexico Open Primaries gave clear and convincing reasons why we need to allow everyone in New Mexico to vote in the primary.
Rep. Javier Martinez introduced HJR 2 that will automatically register all qualified people in New Mexico to vote. Automatic voter registration shifts the burden of voter registration from the individual to the state, as is done in many developed democracies around the world. Unfortunately this was tabled in the first committee – but this is the future, and we will be back with this great bill!
HB 137, requiring more Lobbying Expenditure Reporting, sponsored by Rep. Jeff Steinborn, passed the House before being tabled in the Senate Rules committee. This bill would have simply required lobbyists to report which legislators were the recipients of their expenditures – wining and dining.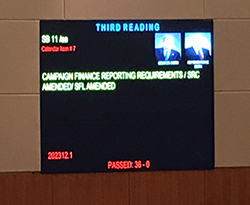 (Screen of unanimous passing vote for HB 105.)
Painful losses at the end
SB 11 Campaign Reporting Requirements sponsored by Sen. Peter Wirth and Rep. Jim Smith has now passed the Senate for the FOURTH time, the third time unanimously! The New Mexico State Senate deserves big kudos for getting this through so quickly – we didn't get a message from the Governor until last Thursday, and they got it through two committees and a floor vote in just four days.
It was reported that the bill "died because Common Cause New Mexico and the Secretary of State's office couldn't come to an agreement about some definitions." And while that is true, there is a reason for that disagreement.
We were disappointed that the Secretary of State's office presented several amendments to SB11 at the eleventh hour which would have increased – not decreased – the darkness in which huge independent contributions are now shrouded. We were told the Governor insisted they be changed before she would sign the bill. The last minute amendments were surprising since they countered previous consensus that Common Cause, the League of Women Voters, the NM Foundation for Open Government and other champions of transparency had come together on with the Secretary of State, the Attorney General and numerous other interested parties in the five previous sessions.
We thank Rep. Jim Smith for his steadfast support of this bill, along with Sen. Peter Wirth and the entire Senate, where it passed unanimously. Short sessions of the legislature are often marked by last-minute disappointments, and SB11 was hindered by a message from the Governor that came only a week before the session's end, and last-minute amendments which would not only have allowed dark money to flourish, but would have weakened our existing campaign reporting requirements for candidates, independent groups and parties alike.
So, we will work with interested parties and the sponsors over the interim and come up with a great disclosure bill that folks can support!
HJR 5 to create an Independent Ethics Commission, sponsored by Rep. Jim Dines and Rep. Jeff Steinborn, passed the House 50-10 and made it over to the Senate with only 8 days left in this 30-day session. Members of the Senate Rules committee offered a number of amendments that would have imposed additional restraints on complainants, granted additional protections to accused office-holders, curtailed the commission's powers and reduced its transparency. These amendments were unacceptable to the bill's sponsors and to Common Cause. With the session nearing its end, there was no time to negotiate these issues, and the bill was pulled by Representative Dines to be worked on further in the interim with interested parties.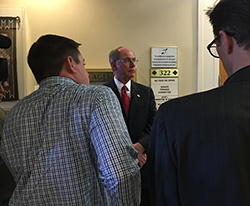 (Rep. Dines addressing reporters.)
And while we are certainly disappointed, we understand the deliberative nature of the legislative body. We want to ensure that we have an effective ethics commission that will be able to address both the concerns of the public as well as the legislature. This legislation should support maximum transparency for the public and have necessary investigative powers, while protecting our elected officials from malicious abuses of the process. We are taking seriously the Senate Rules committee's commitment to working on this in the interim and look forward to crafting the best solution to create an Independent Ethics Commission that works for everyone!