End-of-Week Roundhouse Updates
02.7.2015
/ By Viki Harrison
End-of-Week Roundhouse Updates
Victory today! One of our priorities is to fix the Voter Action Act (Public Financing) in New Mexico, and today it passed the Senate Rules committee. We are off to Senate Judiciary next, so watch for updates about when we will be heard.
And as we love to remind folks, this legislation has unprecedented bipartisan support from both chambers during the last long session in 2013 and passed the New Mexico Senate 33-7 and the House of Representatives, 68-0.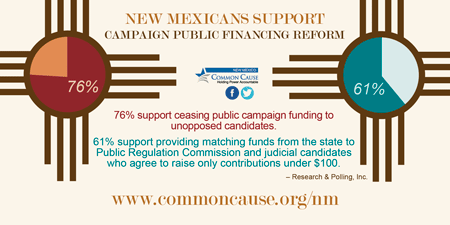 Why this legislation is important to New Mexicans:
76% of registered voters support ceasing public campaign funding to unopposed candidates
61% of registered New Mexico voters support providing matching funds from the state to Public Regulation Commission and judicial candidates who agree to raise only contributions under $100
Also, we are working with Representative Brian Egolf on his Independent Ethics Commission bill – as you well know, we love the idea and 86% of New Mexicans also support having an independent commission – we have a few concerns about the bill as introduced and are working with his staff to get a robust commission that will be a boost for transparency and good government.
New Mexico is one of only nine states without an ethics commission, and creating a carefully considered independent ethics commission with protections for legislators and whistleblowers alike will build trust between the public and our elected officials.
Ethics committees are a meaningful way for legislatures to strengthen their credibility with the public. Creating an Ethics Commission in New Mexico will:
Allow for consistent interpretation of laws and standards
Provide education, guidance and training for public officials
Serve as a deterrent for unethical practices in both state and local government
Increase public confidence in the integrity of New Mexico government
Increase the chances for fair enforcement of standards of conduct for those entrusted with public power
Increase economic development for business opportunity looking to build in New Mexico
Finally, Representative Jeff Steinborn has introduced House Bill 155 to update the Lobbyist Regulation Act. To update the Lobbyist Regulation Act, we need to:
Require that lobbyist registrations, statements and lobbying reports shall be kept and maintained on the Secretary of State's lobbyist disclosure website, and shall be available in searchable and downloadable formats.
Currently lobbyists and their employers report expenditures in several categories, and this bill will enhance the reporting to require all expenditures be listed separately by each recipient, indicating the amount spent, and a description of what the money was spent on.
Require lobbyists to report which issue or piece of legislation is discussed with legislators so the public knows who is lobbying for particular legislation in New Mexico.
Have lobbyist registrations published on the Secretary of State's site within 5 days.
Retain the lobbyist records online for 10 years – current law requires only 2 years with no requirement to archiving them after this short period.
Increase the lobbyist registration fee from $25 to $50.
The bill is scheduled for Monday, February 9 in the House Regulatory and Public Affairs committee at 1:30 PM. That's in Room 302 at the Capitol. Join us for a great committee hearing as we work to pass more disclosure around lobbying in New Mexico.
And, shocker, New Mexico agrees!
64% of voters say New Mexico's elected officials are more responsive to lobbyists than voters; only 19% say they are more responsive to voters.
The vast majority of voters (89%) say it is a good idea to require registered lobbyists to make public the bills or issues they have been hired to advocate, so that voters know who is lobbying on issues.