Report from Tallahassee for Week Ending May 1, 2015
05.4.2015
/ By Ben Wilcox
Report from Tallahassee for Week Ending May 1, 2015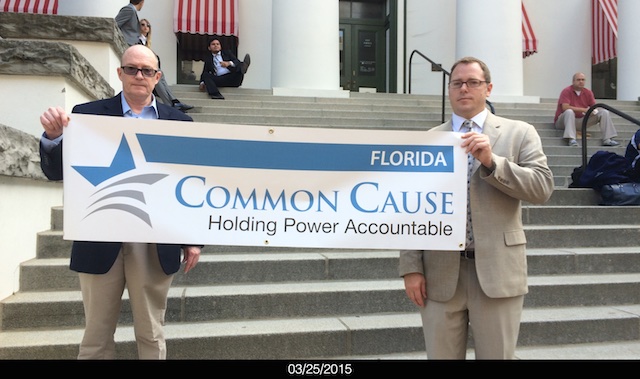 Common Cause Lobbyist Ben Wilcox and Board Member Brad Ashwell on the Steps of the Old Capitol, Tallahassee
Overview
The 2015 Florida legislative session is over and there was action in the final week on issues of interest to Common Cause Florida.
It's always a possibility when the House and Senate are divided over a major issue like the budget that there will be some sort of legislative meltdown that jeopardizes all other bills that are in play. That's what happened on Tuesday afternoon when the House of Representatives adjourned for the rest of the legislative session. The Florida Senate continued to meet on Wednesday, but was put in the awkward position of only being able to act on bills that had previously been passed by the House. Senators had to decide whether to accept the House version and send the bill to the Governor or make changes and send legislation back to the House where it was sure to die.
A lot of good bills died as a result of the early departure by the House, but fortunately two of the top three priorities of Common Cause survived and are on their way to the Governor for his consideration. Our top priority was SB 228, the online voter registration bill (OVR) by Senator Jeff Clemens (D-Lake Worth). The bill, which mandates the creation of an online system for voter registration by October 2017, was passed by the Senate on Wednesday and will now go to the Governor. The House added a minor amendment to the bill, which the Senate accepted. This is a big win for Common Cause Florida and the coalition of groups that have worked for two years to make OVR a reality.
There is a possibility Governor Rick Scott will veto SB 228. His Secretary of State Ken Detzner spoke against the bill in several committees and is on record raising concerns about potential fraud. But the bill passed with strong bipartisan support in both Houses, and the Governor could face an override if he does veto the measure.
A bill that makes modest reforms at the state Public Service Commission also passed the Senate during its final session on Wednesday. The bill (HB 7109) would limit future Public Service Commission members to three consecutive four-year terms and require commissioners to undergo annual ethics training. The bill was weakened when the House refused to accept a Senate amendment that would require the PSC to hold customer service meetings every other year in the service area of the utilities they regulate. The Senate agreed to pass the bill without the amendment and it too now goes to the Governor.
Another top priority for Common Cause Florida did not survive the early adjournment by the House. SB 1372 by Senator Don Gaetz (R-Destin) would have strengthened methods for collecting unpaid financial disclosure fines, applied lobby registration requirements to more special districts and prohibited members of the Enterprise Florida Board from lobbying the agency for two years after they leave the Board. Unfortunately that bill died in House messages when the House adjourned. Common Cause will work for its passage next year.
At weeks end, the Florida legislature is in a state of chaos. The Democrats in the Senate asked the state Supreme Court to find the early adjournment by the House to be unconstitutional. The Court agreed the adjournment was unconstitutional, but said there was no point in requiring the House to go back into session.
Leaders in both chambers are blaming each other for failing to negotiate on the state budget. Both sides agree that they will have to come back to Tallahassee in the next two months to pass a budget as is constitutionally required. That will not be easy an easy task because the House and Senate have significant budget differences that will have to be resolved. It's also unlikely that any call for a special session will include issues other than the budget.
All and all, it was a good legislative session for Common Cause Florida. We'll continue to monitor the Governor's office for any action taken on our bills.
Legislation
Common Cause Florida tracked the following bills that were filed for the 2015 legislative session. They include:
SB 228, HB 227, HB 1161, HB 7143 and SB 7064 – These bills would create an online application process for voter registration. Two of the bills, HB 1161 and SB 7064, also include elections administration provisions that allow mail ballot city elections, allow voters to update their signatures until 5:00 P.M. the day before an election and authorizes new forms of voter IDs. Common Cause Florida supports this legislation.
SJR 208 – This bill would propose a constitutional amendment that, if passed by voters, would automatically restore the voting rights of non-violent ex-felons, once they have completed the terms of their sentences. Common Cause Florida supports this bill.
SB 170 and HB 199 – These bills would prohibit elected officials from serving on the Public Service Commission for two years after they leave office and create districts that Commissioners would have to be appointed from to ensure statewide representation. Common Cause Florida supports these bills.
SB 230 and HB 81 – These bills would prohibit a public utility from charging a higher rate based on an increase in energy usage when that increased usage is attributable solely to an extension in the billing cycle. It also prohibits a public utility from making any change in a billing cycle without obtaining approval from the Florida Public Service Commission at least one month before the effective date of the change.
SB 288 and HB 219 – These bills would reform the Public Service Commission to require those who lobby the PSC register as legislative lobbyists, require the PSC to hold public customer service meetings around the state and require the Governor remove any PSC member who violates the ex parte statute. Common Cause Florida supports these bills.
HB 473,HB 67 and HB 4001 – These bills would repeal the nuclear cost recovery law passed in 2006 that allows power companies to charge customers in advance for nuclear plants that may or may not eventually get built. Common Cause Florida is in favor of these bills.
SB 1380 – This bill is a campaign finance reform bill filed by Senator Darren Soto, D-Kissimmee, that would place new restrictions on candidates coordinating with political committees to solicit funding and run advertising and restrict transfers of funds between political committees and political parties.
SB 1002 – This bill would delete a requirement that officers and candidates soliciting funds for a 527 or 501 (C) (4) political committee create a website that discloses the contributions and expenditures of the committee.
HM 1321 – This memorial urges Congress to propose to states an amendment that allows federal and state regulation of corporate campaign contributions and expenditures.
SB 1372 and HB 1063 – Strengthens methods for collecting unpaid financial disclosure fines, applies lobby registration requirements to special districts and prohibits members of the Enterprise Florida Board from lobbying the agency for two years after they leave the Board.
SB 1360 and HB 1011 – Requires additional distinguishing information be included on a voter registration form and on a list of valid addresses maintained by the Supervisor of Elections.
Capitol Report is filed weekly when the legislature holds committee meetings and during the legislative session. We will let you know if there is any recommended action that can be taken by Common Cause members that would be helpful to our lobbying efforts.
The next reports will probably be filed during the interim committee meetings, which begin in the Fall.