Report from Tallahassee for the Week Ending March 6, 2015
Report from Tallahassee for the Week Ending March 6, 2015
Capitol Report 2015
Filed by: Ben Wilcox, Governmental Consultant, & Peter Butzin, Chair
Overview
Week one of the 2015 Florida legislative session is over and there was little action on issues of concern to Common Cause Florida. The Senate Ethics and Elections Committee met on the opening day of the session and approved two noncontroversial bills including one that moves the next Presidential Primary from March 1 to March 15th.
Also on the opening day of session, Governor Rick Scott delivered his State of the State address. Governor Scott called on lawmakers to adopt his proposals to cut taxes, hold down the cost of higher education and boost public education spending to the highest per-student level in state history. Scott also asked lawmakers to approve his $77 billion state budget plan.
Peter Butzin joined four other spokespersons as part of the "Awake the State" series of coordinated events around Florida to press legislators to expand Medicaid, promote solar and other forms of sustainable energy, raise the minimum wage, and protect the environment. While Common Cause has not taken positions on these issues, Peter's message promoted campaign finance reform, pointing out that action on substantive issues will continue to be illusive without addressing the problem of special economic interests essentially buying public policy makers through campaign contributions.
One bill that Common Cause Florida is tracking did come up for a vote this week in the Senate Appropriations Subcommittee on General Government. The bill is SB 230 by Senator Charles Dean, R- Inverness, and it would prohibit a public utility from charging a higher rate based on an increase in energy usage when that increased usage is attributable solely to an extension in the billing cycle. That bill was passed by the Subcommittee by a unanimous vote.
Also this week, the Florida Supreme Court heard a challenge to the congressional redistricting map that was redrawn by the legislature in a special session last year. The plaintiffs in the case, which include Common Cause and the League of Women Voters of Florida, argue the map should be rejected because it is the product of a shadowy process that was corrupted by Republican political operatives in violation of the Fair Districts amendments that prohibit partisan gerrymandering.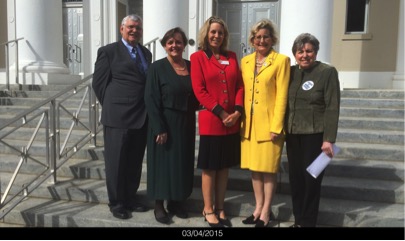 On the steps of the Florida Supreme Court immediate after oral arguments in our challenge to Congressional district lines: Peter Butzin, Chair, CCFL, Penny Walker-Bos, Executive Director of the League of Women Voters of Florida, Debbie Harrison-Rumberger, League Lobbyist, Deirdre Macnab, President, LWVF and Marilyn Wills, LWV activists. (The League and Common Cause are co-plaintiffs in the case.)
Lawyers for the legislature argued that the legislature's professional staff drew the map and were not part of a "conspiracy" by political operatives. The decision in this case may be the final one for the congressional map which has undergone a series of challenges since it was first drawn in 2012. Another lawsuit, challenging the state Senate map, is likely to go to trial this summer.
Next week, the Senate Ethics and Elections committee is scheduled to meet again on Tuesday. Among other bills, the Committee will consider SB 1202 by Senator Jeff Brandes, R-St. Petersburg. The bill would designate the first week in May of each year as "Florida High School Senior Voter Registration Week." Supervisors of Elections would be encouraged to provide high school seniors the opportunity to register to vote at their school as well as information about the elections process.
Legislation
Common Cause Florida is currently tracking a number of bills that have been filed for the 2015 legislative session. They include:
SB 228, HB 227 and HB 1161 – These bills would create an online application process for voter registration. Common Cause Florida supports this legislation.
SJR 208 – This bill would propose a constitutional amendment that, if passed by voters, would automatically restore the voting rights of non-violent ex-felons, once they have completed the terms of their sentences. Common Cause Florida supports this bill.
SB 170 and HB 199 – These bills would prohibit elected officials from serving on the Public Service Commission for two years after they leave office and create districts that Commissioners would have to be appointed from to ensure statewide representation. Common Cause Florida supports these bills.
SB 230 and HB 81 – These bills would prohibit a public utility from charging a higher rate based on an increase in energy usage when that increased usage is attributable solely to an extension in the billing cycle. It also prohibits a public utility from making any change in a billing cycle without obtaining approval from the Florida Public Service Commission at least one month before the effective date of the change.
SB 288 and HB 219 – These bills would reform the Public Service Commission to require those who lobby the PSC register as legislative lobbyists, require the PSC to hold public customer service meetings around the state and require the Governor remove any PSC member who violates the ex parte statute. Common Cause Florida supports these bills.
HB 473,HB 67 and HB 4001 – These bills would repeal the nuclear cost recovery law passed in 2006 that allows power companies to charge customers in advance for nuclear plants that may or may not eventually get built. Common Cause Florida is now in favor of these bills.
SB 1380 – This bill is a campaign finance reform bill filed by Senator Darren Soto, D-Kissimmee, that would place new restrictions on candidates coordinating with political committees to solicit funding and run advertising and restrict transfers of funds between political committees and political parties.
Capitol Report will be filed weekly when the legislature holds committee meetings and during the legislative session. We will let you know if there is any recommended action that can be taken by Common Cause members that would be helpful to our lobbying efforts.