Maryland, Pennsylvania Move To Lower Barriers To Voting
03.27.2018
/ By Dale Eisman
Maryland, Pennsylvania Move To Lower Barriers To Voting
A pair of mid-Atlantic states are adding today to the national momentum for new laws that remove needless barriers to voting and break big money's hold on our elections.
In Maryland, the state legislature has sent voters a state constitutional amendment that would permit eligible citizens to register and vote on the same day. The legislation does not require the signature of Gov. Larry Hogan and will be on the November ballot for ratification.
Maryland lawmakers also are moving ahead on a bill that would register eligible citizens to vote automatically when they do business with designated state or local agencies. That legislation easily passed the state Senate earlier this month and is awaiting action in the House of Delegates.
In neighboring Pennsylvania, Gov. Tom Wolf on Monday announced a package of election reform bills including same day registration and voting, automatic registration, and no-excuse absentee balloting. Pennsylvania currently is among the states that permit absentee voting only when the voter provides a legally-approved reason for why he or she cannot vote on Election Day.
Wolf's proposals also include new limits on campaign contributions and a call for creation of an independent citizens commission to re-shape the state's congressional districts after each decennial census. Pennsylvanians are set to vote this November in districts drawn at the direction of the state Supreme Court; that panel decided that the Republican-controlled legislature unconstitutionally gerrymandered districts to favor GOP candidates.
Micah Sims, executive director of Common Cause Pennsylvania, urged lawmakers to act promptly to approve the governor's proposals.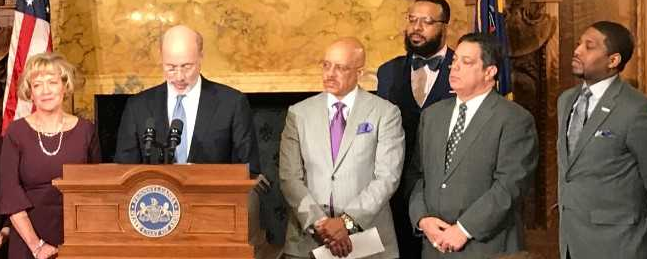 Common Cause's Micah Sims, far right, was on hand Monday as Gov. Tom Wolf urged PA lawmakers to pass election reform package.
###