Democracy Counts Newsletter, September 2018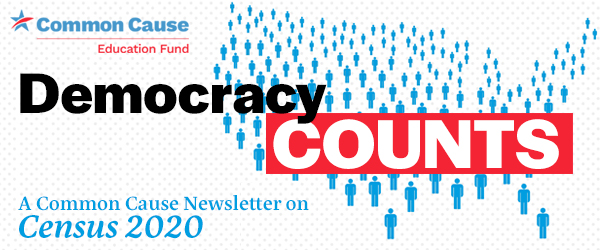 BREAKING: GAO report finds 3,100 Cyber Vulnerabilities to 2020 Census
The Government Accountability Office (GAO) released a report Thursday stating early testing has turned up 3,100 digital vulnerabilities that need to be fixed before the 2020 Census. According to the report, 43 of the vulnerabilities are "high risk" or "very high risk."
For the first time in history, the Census Bureau will give respondents the opportunity to respond the census online. While there are certainly some benefits to the move, such as increased ease of access for respondents and greater cost efficiency, the venture into uncharted territory brings a new host of concerns for the census.
Several former national security officials and the House Oversight Committeehave expressed concern that the Census Bureau has allowed itself to fall behind on IT implementation and cyber security benchmarks. Critics worry that citizens' private data will be susceptible to hacks and cyber attacks from criminal and foreign actors (especially Russia or China) and distort the data every state relies on for redistricting. Another concern is the theft of private data.
Kevin Smith, the Census Bureau's chief information officer, recently addressed some of these concerns, stating that all census data will be encrypted and immediately vaulted away from the public internet once submitted.
Critics agree this is a good start but remain skeptical about the lack of information provided by the bureau on the extent to which measures are in place to prevent hacks and cyber attacks. Calls have been made for more transparency in the bureau's cyber security measures and for the hiring of an outside cyber security firm to assist in preparations.
5 Lawsuits on Citizenship Question Proceed
The Trump administration's legal problems continue to mount over their push to add a citizenship status question on the 2020 Census, with a total of fivelawsuits moving through federal courts.
According to the Census Bureau's own research, the addition of a citizenship question would discourage non-citizens from responding and lower response rates overall, decreasing accuracy.
Plaintiffs in these lawsuits argue that the addition of a citizenship question to the census is a deliberately partisan move by the Trump administration to undercount immigrants and communities of color, and that the decision obstructs the fulfillment of the constitutionally mandated responsibility to conduct a census that counts all people in the U.S.
In a court opinion allowing one lawsuit to proceed, U.S. District Judge George Hazel wrote that "it cannot be said that the Census Bureau's use of the citizenship question bears a 'reasonable relationship to the accomplishment of an actual enumeration of the population.'" Hazel further added that "there is evidence indicating that the [Commerce] Secretary and other senior administration or campaign officials were determined to include the citizenship question in the 2020 Census and sought out [the Justice Department] to provide a legally defensible reason to do so."
Rhode Island Census Test Concludes
The 2018 Census End-to-End Test officially wrapped August 2018. The census test that was conducted in Providence County, Rhode Island, was originally supposed to be one of three taking place this year, but due to budget restraints will be the only one conducted before 2020. It served as a chance to integrate new technology into outreach strategies for the first time, and to understand what needs to be done to be ready by 2020. Earlier this summer, Common Cause Rhode Island hosted a 'Fun Run' in partnership with the city of Central Falls to raise awareness for the test. You can see a video of that event here.
Jeff Behler, a regional Census Bureau director, sounded optimistic in a public statement, commenting that "things aren't exactly the way they need to be. But we're learning that[.] We're getting some very critical information about the changes we need to make." Many in Providence County sounded less optimistic, with several elected officials protesting a lack of publicity for the test, as well as its lack of support for non-English languages and confusion over the citizenship question not being put on the test. Once the Census Bureau releases its full report on how the test went we will know more, but for now, the success of the 2018 Census End-to-End Test is uncertain.
Activist Engagement in Illinois
The Illinois Count Me In 2020 initiative hosted a series of events this summer with members of Congress, mayors, and other elected officials to chat with their communities about the upcoming census and what the census means the for federal, state and local funding and representation in Illinois.  These events have included Congressman Raja Krishnamoorthi (IL-8), Congresswoman Jan Schakowsky (IL-9), Dave Kaptain, Mayor of Elgin, State Representative Anna Moeller, 43rd District, Steve Monroy of the Mexican American Legal Defense and Educational Fund (MALDEF), John Young of Common Cause Illinois, Anita Banerji of Forefront, as well as other groups. You can view live streams of two the events here and here.
Resources & Upcoming Events:
This month, Common Cause launched Our Democracy 2018 – a campaign to get all congressional candidates, and many state candidates, on the record about their support for democracy. Included in the questionnaire are questions concerning a fair and accurate 2020 Census and reforming the redistricting process. So far we have more than 200 candidates on the record! You can find more details on candidate responses here.
Census Communication Webinar Series in September
Learn effective strategies for communicating in Black, Latinx, and Asian Pacific Islander communities about the census.
The Annie E. Casey Foundation released a report last month that warns that the 2020 census is mired in challenges that could shortchange the official census count by at least 1 million kids younger than age 5. Read the report here.
To subscribe to the Democracy Counts newsletter click here!  
Have comments, questions, suggestions or want to notify me of upcoming events? Email me at kmorris@commoncause.org