NEW: The Freedom to Vote Act, a new, updated version of the For The People Act, is moving through the U.S. Senate!
We the People deserve a responsive, accountable government that gives us all a stronger voice and puts our needs ahead of special interests.
Congress must pass the For The People Act (H.R. 1) — a bold, comprehensive package of democracy reforms including independent redistricting commissions, citizen-funded elections, closing the revolving door between government and corporate interests, and protecting voters against discrimination.
H.R. 1 — is the boldest democracy reform since Watergate. It's a massive overhaul of money-in-politics, voting, and ethics laws — all to make our democracy more inclusive.
The House passed it in 2019 during the 116th Congress, but then-Senate Majority Leader Mitch McConnell refused to give it a vote in the Senate.
The American people have elected new leaders since then, so we now have another chance to pass it in the House, send it to the Senate, and on to President Biden's desk for his signature.
Victory won't come easily. We will need to fight to make to ensure H.R. 1 passes. We need to prepare right now for a fight to protect these bold reforms and pass them to ensure that all Americans for generations to come to have a healthy democracy, built on transparency, trust, and the full participation of We the People.
What is The For the People Act?
For The People Act is a transformative, comprehensive bill addressing voting rights and election administration, money-in-politics, redistricting government transparency, and ethics.
Many parts of the bill are reforms Common Cause has successfully won at the state and local level, often with bipartisan support. Now, the For the People Act is an opportunity to pass these important reforms at the federal level.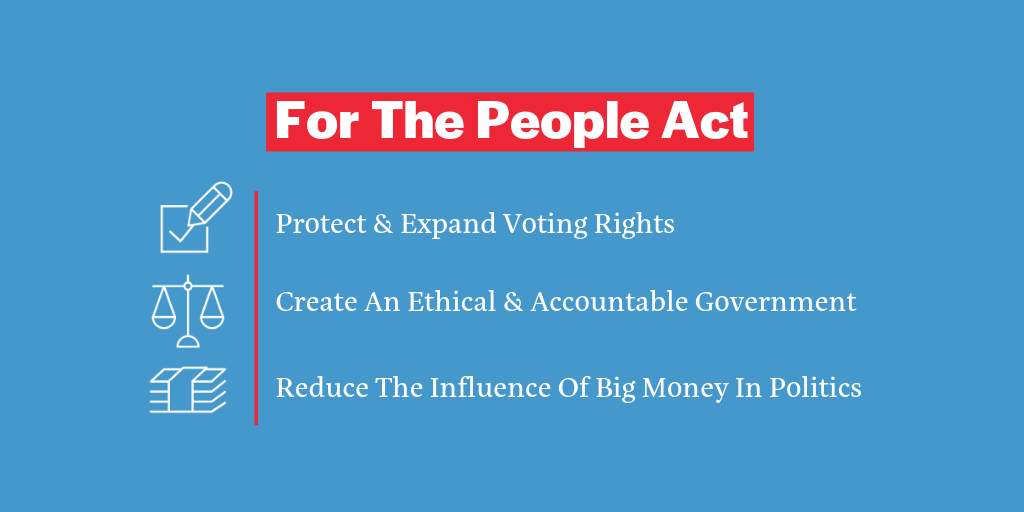 Keep reading below for more information on For the People Act H.R. 1 / S.R. 1…
Protecting and expanding voting rights and election security:
Online voter registration
Same day voter registration
Voting rights restoration to people with prior felony convictions
Expanded early voting
Vote-by-mail for all who choose to vote that way (with postage prepaid, so free for voters)
Prohibit voter purges that kick eligible voters off the registration rolls
Enhance election security with increased support for voter-verified, paper-based voting system and more oversight over election vendors
End partisan gerrymandering by establishing independent redistricting commissions
Prohibit providing false information about the elections process that discourages voting and other deceptive practices
Reduce the influence of big money in our politics:
Require secret money organizations that spend money in elections to disclose their donors
Upgrade online political spending transparency rules to ensure voters know who is paying for the advertisements they see
Create a small donor-focused matching system so candidates for Congress aren't just reliant on big money donors to fund their campaigns and set their priorities
Strengthen oversight rules to ensure those who break our campaign finance laws are held accountable
Overhaul the Federal Election Commission to enforce campaign finance law
Prohibit the use of shell companies to funnel foreign money in U.S. elections
Require government contractors to disclose their political spending
Ensure an ethical government accountable to the people:
Slow the revolving door between government officials and lobbyists
Expand conflict of interest law
Ban members of Congress from serving on corporate boards
Require major party presidential candidates to publicly disclose their tax returns
Overhaul the Office of Government Ethics to ensure stronger enforcement of ethics rules
Require members of the U.S. Supreme Court abide by a judicial code of ethics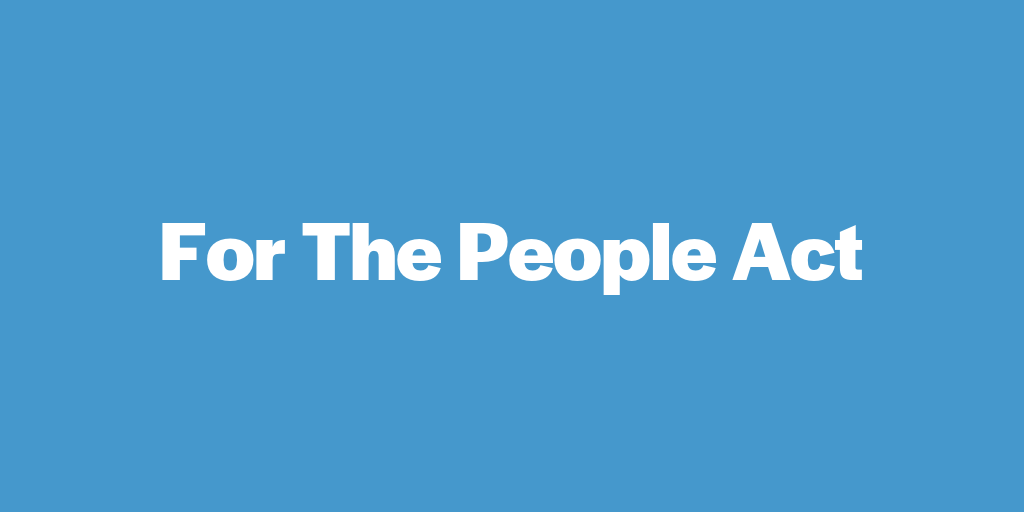 We need a democracy where voters are protected from discrimination and can make themselves heard at the ballot box — with sensible reforms like automatic voter registration. A democracy where electoral districts are drawn fairly so that every voter's ballot is worth the same by ending gerrymandering. And a democracy where ordinary Americans — more women, people of color, and working people — can run for office without relying on special interest Big Money.
We already have the solutions that work. Letting independent redistricting commissions draw electoral maps is a check on the power of self-interested politicians. Small-donor, citizen-funded elections — which more than two dozen states and localities have enacted — are proven to allow ordinary people to run for office while helping ensure that elected officials stay accountable to the public interest. We must make sure that these vital reforms are included and stay in the For The People Act.
Additional Resources About The For The People Act