Secret Political Spending Through 501c3 Organizations
Secret Political Spending Through 501c3 Organizations
Problem:
New York State's JCOPE Funder Disclosure Mandate reveals who funds certain large lobbying campaigns, but it's not done enough to let the public know who is influencing their politicians. While 501(c)4 organizations who lobby our elected officials are required to report their donors who give more than $5,000, 501(c)3 organizations slip through the cracks, and do not have to report where they get their money. This results in millions of dollars in secret political spending slipping through the cracks each year in New York.
Example: Families for Excellent Schools – Secret Political Spending in New York State
501(c)3 organizations such as Families for Excellent Schools (FES) – a pro-privatization lobbying group – are spending exorbitant amounts of money on lobbying1. In 2014, FES topped JCOPE's annual report by spending $9.6 million on lobbying in New York, yet to date has not disclosed any of its donors. That's nearly $10 million in secret political spending that is affecting policy decisions in New York State! (For more on the rise of privatizer spending to influence policy in New York, read our June 2015 report "Polishing the Apple.")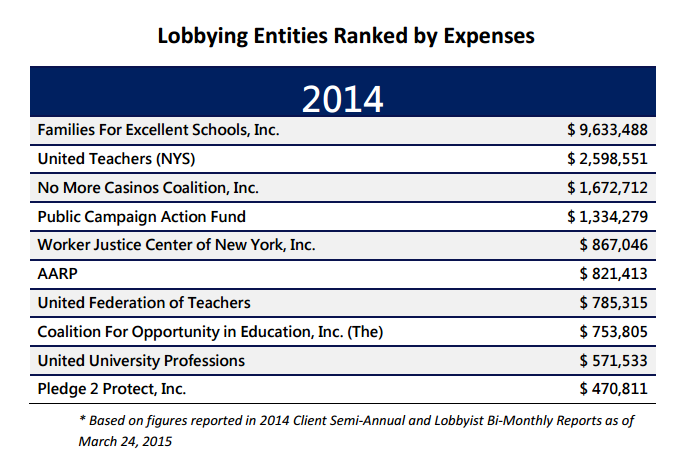 Common Cause New York's Solution:
With all of this secret money, it's no wonder average New Yorkers feel it is hard to have a voice in Albany! The public has a right to make informed political decisions, and we need to make it easier for average citizens to understand who is influencing public policy.
Our solution is simple: expand the reporting requirements of 501(c)4 organizations to 501(c)3 organizations.2
Who Can Make This Change:
While JCOPE can institute many needed administrative changes to JCOPE processes, including data accessibility, the power to determine what has to be disclosed through JCOPE rests with the New York State Legislature.
What You Can Do:
Take action: Call on the New York State Legislature to shine a light on secret lobbying expenditures!
Unless steps are taken to require proper disclosures and transparency of third-party coalition campaigns, voters will find themselves ever more confused, misled, and excluded from meaningful political participation. New York took an initial important step to mandate disclosure of the funders behind these veiled lobbying actors when a 2012 Lobbying Act amendment3 mandated that 501(c)4 organizations who lobby on behalf of themselves and who spend more than $50,000 on lobbying activity in New York State have to make publically available each source of funding that exceeds $5,000. Now it's time to extend those requirements to 501(c)3 organizations.
1 In FES's New York State Registration Statement for Charitable Organizations, the organization's "purpose" was described as: "Families for Excellent Schools harnesses the power of families to advance policy and political changes that create and sustain excellent schools." Additionally, FES reported in its IRS Form 1024 that "Families for Excellent Schools-Advocacy (The organization) works to advocate for specific legislative changes through campaigns. It intends to manage an issue campaign each year in the spring semester to coincide with the legislative calendar."
2 Additionally, and more technically, our solution would include eliminating the "pass-through" loophole by requiring all major entities involved in a multi-layered lobbying structure to report their spending.
3 The Public Integrity Reform Act of 2011 ("PIRA") (Chapter 399, Laws of 2011) amended Legislative Law article one-A by enacting requirements, effective June 1, 2012, that lobbyists who lobby on their own behalf, and clients who devote substantial resources to lobbying activity in NYS, to make publicly available each "Source of Funding" over $5,000 for such lobbying. The requirements to disclose Sources of Funding are found in Legislative Law §§1-h(c)(4) and 1-j(c)(4). These instructions clarify the Source of Funding reporting requirements.