Arrest of Senate Majority Leader Highlights Need to Close LLC Loophole
05.6.2015
/ By Lauren George
Arrest of Senate Majority Leader Highlights Need to Close LLC Loophole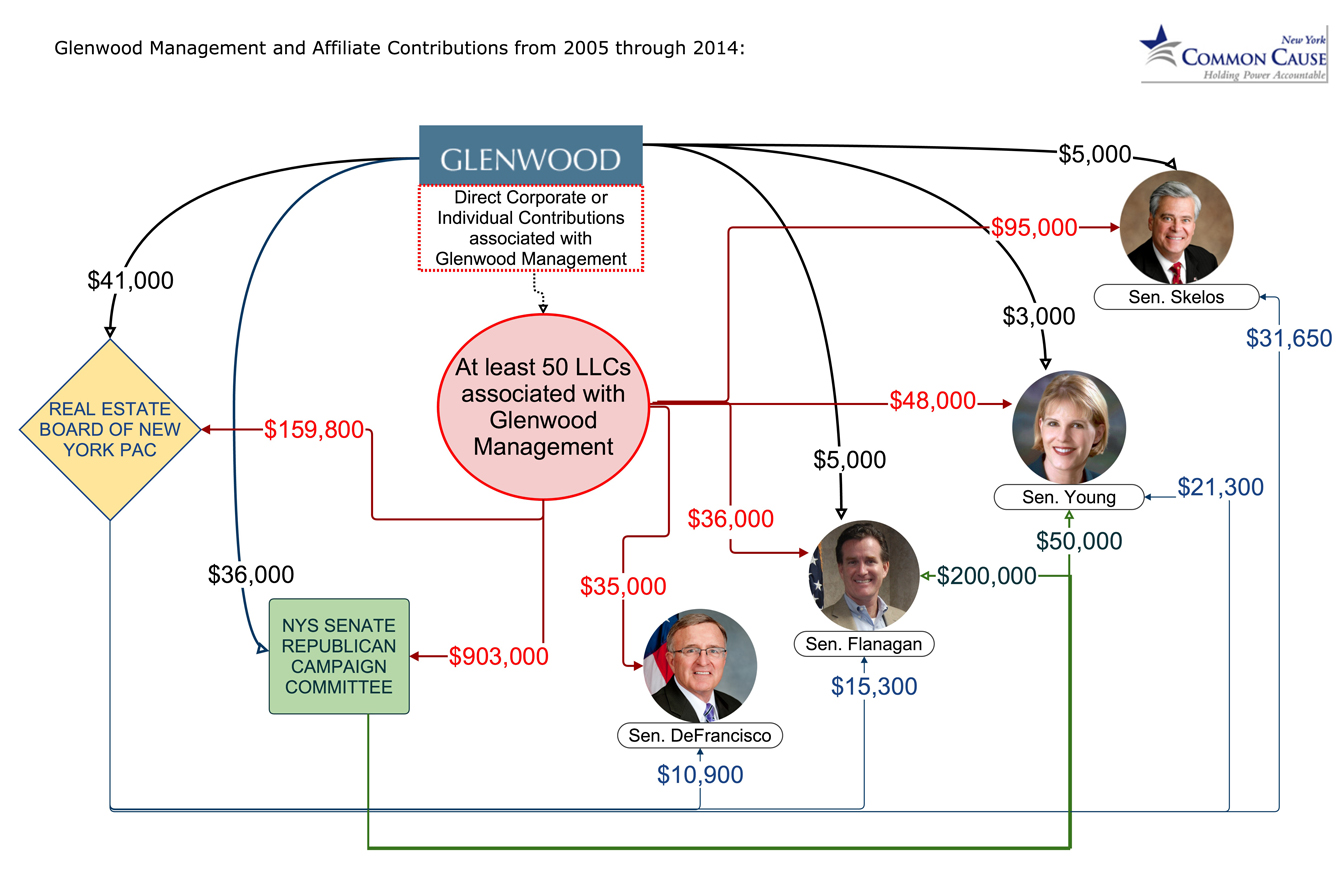 As a second of Albany's powerful "three men in a room" has been indicted on federal corruption charges, the need to combat and prevent corruption in Albany could not be clearer. While there are a number of important reforms that ultimately should be adopted, the bill to close the notorious Limited Liability Company (LLC) Loophole moving through the Assembly is an effective way to counter the unbridled power and influence of big campaign donors revealed by the federal criminal complaint against Senate Majority Leader Dean Skelos.
That complaint alleges a set of transactional practices by a powerful Senator, exploiting the LLC loophole to squeeze maximum campaign dollars out of a wealthy special interest donor seeking tax breaks and the passage of favored bills in return. The loophole is a misinterpretation of campaign finance laws which allows a Limited Liability Company to get around the $5,000 annual corporate contribution limit by treating LLCs as if they were individual natural persons and so subject to a $150,000 annual contribution limit. The Skelos complaint shows how multiple LLCs controlled by a single real estate developer can be used to make hundreds of thousands of dollars of campaign contributions in order to buy favors. What it alleges is the very definition of corruption.
Lest New Yorkers think that only Dean Skelos is guilty of abusing the LLC Loophole, we've prepared the accompanying graphic which illustrates the way Glenwood Management, the company implicated in the Skelos complaint, uses the LLC Loophole to curry favor with other powerful Republican Senators. It clearly illustrates how a company like Glenwood, which does business, legitimately, through multiple LLCs can use the LLC Loophole – a clear misinterpretation of campaign finance law – to avoid campaign contribution limits.
There is no valid reason for the New York State Legislature not to close the LLC Loophole, and the pending legislation will do just that.
Common Cause New York examined records of the New York State Board of Elections to identify donations from Glenwood Management and its approximately 50 affiliated LLCs to Senate Majority Leader Skelos and the 3 senators most frequently cited as likely to replace him as Majority Leader, should he resign or be removed from his leadership post. Our analysis shows that Glenwood and its LLCs gave over $100,000 to Senator Dean Skelos, $51,000 to Senator Catherine Young, $41,000 to Senator John Flanagan and $35,000 to Senator John DeFrancisco. Glenwood and its LLCs have also given large amounts to the Real Estate Board of NY ($200,800) and the NYS Senate Republican Campaign Committee ($939,000).
We also found that, in aggregate, Glenwood-connected donors gave a total of $12.8 million to candidates and committees across the state from 2005-2014. LLCs associated with Glenwood Management alone gave $11.6 million in that same period. Glenwood has been able to amass overwhelming power and influence due to its use of multiple LLCs, which also serves to build and consolidate the power of the real estate industry over our legislature and Governor. The laws governing New York City rent stabilization and generous real estate tax abatement programs reflect the substantial influence these outsized contributions buy.
Our analysis seeks to shine light on how unlimited campaign contributions—as limited liability companies effectively have no limits—warp our elections and important policy decisions are driven by the demands of wealthy special interests. Such unlimited contributions and influence fuels public corruption scandals that will continue to rock the foundations of our state Capitol until the LLC Loophole is closed and Fair Elections through public financing is adopted.