When It Comes To Money in Politics, 2016 Presidential Candidates Talk About the Problem More Than Solutions
11.10.2015
/ By Jay Riestenberg
When It Comes To Money in Politics, 2016 Presidential Candidates Talk About the Problem More Than Solutions
The 2016 Presidential candidates are talking more and more about the problem of money in politics, but leaving out what every voter needs to know: how they would fix it.
A Common Cause analysis of statements in Every Voice's 2016 Candidates on Money in Politics Tumblr page, a compilation of public statements, interviews, and tweets by the 2016 candidates on money in politics, shows that the 2016 presidential candidates talk about the problem of money in politics twice as much as they talk about solutions to the problem.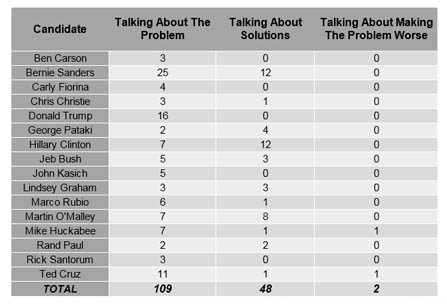 Despite the call for reform from voters across the political spectrum, 2016 presidential candidates typically only mention plans to fix our broken system about 30% of time when they are talking about money in politics. The solutions they propose include overturning the Supreme Court decision in Citizens United, requiring disclosure of political spending, public financing of elections, and closing the revolving door between congressional offices, the executive branch, and Washington's lobbying corps.
The other 70 percent of candidate attention to the subject of money in politics is devoted mostly to complaints that big money is a problem. In these instances, the candidates avoid talk of solutions, or in some cases propose ideas that would worsen the problem, including removing all contribution limits in exchange for so-called "full disclosure."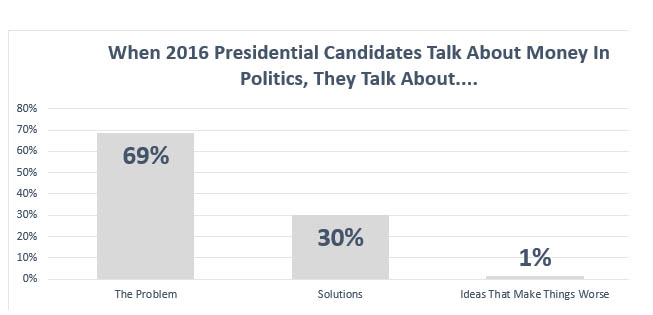 As we approach two presidential debates this week – Tuesday's Republican debate in Madison, Wisconsin and Saturday's Democratic debate in Des Moines, Iowa – voters need to hear more than just talk. So far there have been four sanctioned debates and none of the media moderators have asked candidates the simple question, "how will you fix this problem every one of you acknowledges we must deal with and the public is clearly demanding answers to – how will you fix the problem of money in politics?" And there have been several attempts to prompt them. Just look at some of these op-eds from leaders of the democracy movement:
We need to hear real money in politics solutions from every candidate and details about how the candidates intend to get them enacted. Candidates should be guided by the priorities laid out in the Fight Big Money agenda:
(1) Everyone participates: provide public funds that will amplify small donations to federal candidates who agree to lower contribution limits.
(2) Everyone's voice is heard: reduce barriers to the ballot box, increase turnout, and enact meaningful contribution limits.
(3) Everyone knows who is trying to influence our views and our representatives: require disclosure of political spending by working to pass legislation in Congress, pushing executive agency rulemakings, and issuing an executive order on federal contractors' political spending disclosure.
(4) Everyone plays by fair, common-sense rules: overturn Citizens United through a constitutional amendment and change the Supreme Court's approach to money in politics with future appointments.
(5) Everyone is held accountable, with enforceable penalties to deter bad behavior: reform the FEC so lawbreakers are held accountable and shut down individual candidate Super PACs.
Journalists must ask, debate moderators must ask, citizens must ask – now that we all agree there is a problem, what specifically are you going to do and how soon after you are elected?