Gerrymander Gazette: Grading the States Edition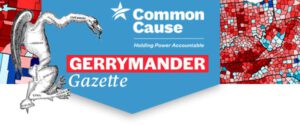 National Citizen Redistricting Commissioners Conference
ATTENTION CITIZEN REDISTRICTING COMMISSIONERS: On December 11 and 12, Common Cause is hosting a conference in Los Angeles to discuss lessons learned during the 2020 redistricting cycle and how to push for reforms and fair maps in the next cycle. Travel stipends are available for individuals who served on independent, advisory, and model citizen redistricting commissions in the 2020 cycle.
For details, contact Will Brodt at wbrodt@commoncause.org.  
CHARGE Community Redistricting Report Card
Earlier this month, Common Cause and our co-authors at Fair Count, National Congress of American Indians, and State Voices released the CHARGE Community Redistricting Report Card. This report gives every state a letter grade for its redistricting process and outcomes based on interviews and survey responses from grassroots activists who fought for fair maps in those states. See how your state did at CHARGEreportcard.org.
We had a great press briefing to unveil our findings and outlets across the country covered how their state performed. Check out some of the coverage by state below. We will continue updating the coverage on this page.