Resisting ALEC in Colorado
Resisting ALEC in Colorado
This week, the American Legislative Exchange Council (ALEC) is holding their annual meeting in downtown Denver. In response, Colorado Common Cause formed a coalition to resist the organization's presence in our state–and highlight the damage that ALEC has done in state legislatures throughout the country.
Ahead of the meeting, we released a new report exposing ALEC's influence in the Colorado legislature. The report revealed 22 Colorado legislators with ties to ALEC, as well as several recent Colorado state bills with ALEC fingerprints. The report also examines funding ALEC has received from the Coors family and Koch brothers, and how the organization abuses its public charity status with the IRS–effectively making their corporate donors eligible for tax deductions.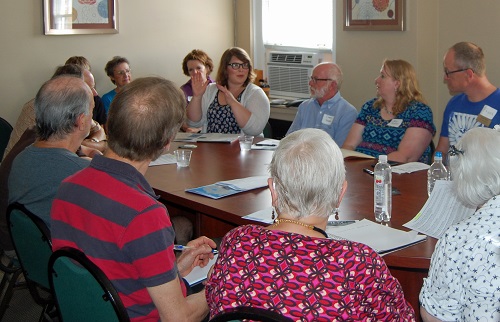 On Saturday July 15th, we hosted an educational "teach-in" about ALEC in downtown Denver (which was live streamed on our Facebook page). Our Executive Director Elena Nunez moderated a panel of experts who spoke about how ALEC negatively impacts a variety of issues: public education, workers' rights, campaign finance reform, net neutrality, women's access to healthcare, tax reform, environmental conservation, voting rights, and communities of color. Attendees then participated in two break-out sessions, where they could take a deeper dive into one of these issues and learn how to fight back against ALEC.
An estimated 165 individuals attended the ALEC Teach-In – check our Facebook page for pictures and a video of the event.

So far this week, several ALEC protests and rallies have taken place–the largest of which focused on Betsy DeVos, one of ALEC's featured speakers. The protests received press coverage from NPR, the Denver Post, and the Colorado Independent.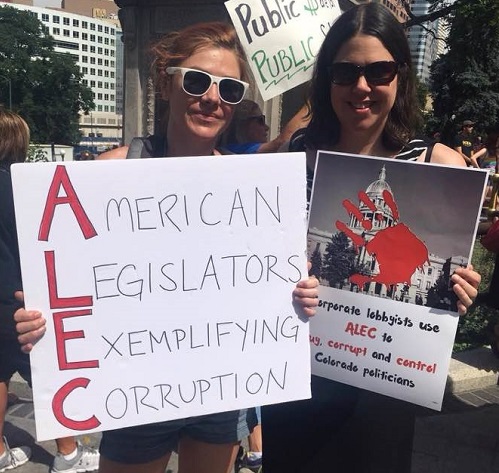 There is still work to do after ALEC goes home. Here are a few actions you can take to fight back against ALEC here in Colorado:
Demand that your state legislators leave ALEC. Our ALEC in Colorado report identified 22 Colorado legislators with past or present ties to the organization. Find out if your legislator is on this list—and if they are, call and demand that they leave ALEC.
Spread the word. ALEC has done an excellent job staying out of the public eye—and we need to change this. Talk to your friends, family, and other networks about ALEC. Join Stand Up to ALEC and visit ALEC Exposed for news and reports related to their work.
Help us monitor ALEC's influence in the Colorado legislature. We are in the process of forming "Colorado ALEC Watch," a group that will inspect bills introduced into the Colorado General Assembly for similarities to ALEC model legislation. Stay tuned for more information.
We look forward to working with you to make Colorado an ALEC-free state. Onward!