Background:
In Oregon, the state legislature draws congressional and state legislative districts, subject to gubernatorial veto. If the legislature fails to approve a map, the responsibility shifts to a panel of judges (for congressional maps) and to the Secretary of State (for state legislative maps). Redistricting reformers are currently working to gather signatures for a 2024 ballot initiative to create an independent citizens redistricting commission in Oregon.
Community of Interest Story
Native Americans across the state worked to keep their communities, which were located on and off reservations, together in the final redistricting maps through public education and testimony-writing workshops. This work was an extension of previous efforts to boost census completion and increase voter turnout in Native communities. Jaylyn Suppah of the Tribal Democracy Project said, "We need to… be a vein of information and resources for things our communities are not part of, where the systems [were] not built for us and sometimes [were built] against us." Ultimately, tribal leaders and advocates were dissatisfied with the lack of genuine outreach by the state, and by the final maps which separated Native communities that live on and off reservations but interact and are connected day-to-day. Nevertheless, advocates noted an increase in coalition knowledge around redistricting and an increase in redistricting advocacy across tribal communities in the state. This work will continue through efforts such as the Tribal Democracy Project – an effort that increases civic participation, for example, by way of voter registration and redistricting advocacy.
Grades: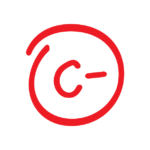 Overall State Grade: C-
Insufficient outreach: Though there was a public website, advocates felt that public outreach was lacking. Many advocates received state redistricting information through community organizations rather than the state or local officials. Further, some advocates felt the website was not easy to navigate.
Inadequate incorporation of feedback: Not all advocates believed that public input was adequately incorporated into the final maps. A community organizer and member of the Confederated Tribe of Warm Springs (CTWS) believed that legislators tokenized tribal input rather than truly listening to it. For example, many pieces of public testimony stressed that, while the proposed (and final) maps technically kept tribal lands together, they split the Warm Springs Reservation from the city of Madras. While Madras is not within the confines of the reservation, it is a city in which many tribal community members live, shop, and go to school. Further, in the previous official map, the two were kept together.
Technical barriers: While the public could submit their own maps as a form of public testimony, advocates did not feel that the process was easy to navigate. For example, submitted maps had to be statewide, rather than regional, district-by-district, or community maps. Therefore, the task was more time intensive. Further, some felt that the publicly available mapping tool provided by the state was too complex to use. Advocates felt that more maps could have been submitted had the process been easier.
Lessons Learned:
Momentum grew for an independent commission ballot measure: Many of those interviewed expressed concern that the legislature's involvement in redistricting has led to incumbency protection and disenfranchisement of voters of color, particularly rural voters of color. This brought to light the need for an independent redistricting commission in the state, and efforts to establish a commission have again taken off, with a focus on placing an initiative on the 2024 ballot. A broad coalition of organizations working in partnership with People Not Politicians supports this effort.
Tribal redistricting advocacy expanded: Advocates noted an increase in coalition knowledge around redistricting and an increase in redistricting advocacy across tribal communities in the state. Two advocates highlighted the ongoing Tribal Democracy Project – an effort that increases civic participation by way of voter registration and voter turnout – and how redistricting folded into that work.
More outreach should be conducted by the state: Advocates spoke to the lack of adequate outreach by the state. For example, a member of the Confederated Tribe of Warm Springs recalled that only about 5% of their community knew about the redistricting process. Once organizers learned about the process, many wished they had started advocacy efforts sooner within their communities; notably, advocates also wished they had connected their census outreach to redistricting public education.
Redistricting must respect tribal communities' sovereign status: Tribal advocates and leaders repeatedly spoke to the treatment of tribal communities as community organizations rather than sovereign governments. One organizer noted that, in the only official meeting held with tribal leaders, which was scheduled last-minute, not all nine tribes could attend. Legislators' lack of outreach and their unwillingness to incorporate feedback from Native American leaders led tribal communities to believe that legislators had little interest in their feedback. It also left them dissatisfied with the final redistricting maps.