Background:
Kansas' congressional and state legislative lines are drawn and passed by the legislature and are subject to gubernatorial veto.
This cycle, Governor Laura Kelly vetoed the congressional redistricting map
presented by the state legislature, finding it diluted minority voting strength and
unduly divided Wyandotte County and several Hispanic neighborhoods in Kansas City. In response, the state legislature voted to override the veto. A lawsuit was subsequently launched, and a Kansas state court judge ruled the map unconstitutional. After Secretary of State Scott Schwab appealed the decision to the Kansas Supreme Court, the ruling was reversed, with the high court finding the map in compliance with the state constitution.
Community of Interest Story
This cycle, significant community effort was made to advocate that Wyandotte County – home to Kansas City – be kept whole within a district. With approximately 165,000 people, the county could be placed wholly within a single congressional district with more than 700,000 people. With a population made up of approximately 60% people of color, Wyandotte is also one of the few counties in Kansas that is not majority white.
Unlike the court-drawn maps of the 2000's, the legislature enacted a congressional map that split Wyandotte County into two districts. Organizers thought partisanship motivated the splitting of Wyandotte, specifically, to dispossess Wyandotte voters who had elected a Democrat by cutting off parts of Wyandotte to be submerged with the more heavily Republican, rural District 2. One organizer recalled that the former senate president brazenly stated to a group of Republican colleagues that they should draw a district to kick out the sole Democratic congressperson from her seat. Despite losing their case at the Kansas Supreme Court and failing to keep the legislature from splitting Wyandotte, organizers are committed to continuing the fight. As one interviewee stated: "We built lasting power structures that we will take into the future. We didn't win on our partisan and racial gerrymandering claims, but the fight keeps going."
Grades: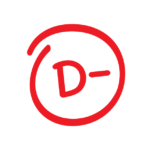 Overall State Grade: D-
Lack of opportunities for public participation: Organizers expressed a litany of complaints regarding the public participation process. The state legislature did a listening tour in a handful of places across the state; however, they gave little notice about the meeting dates and conducted many before the 2020 census data was released. Further, the legislature released a complex set of rules after the hearings began regarding how to submit public testimony; these rules were incredibly difficult to navigate. As Connie Brown Collins of the Voter Rights Network of Wyandotte County noted, "public hearings were rushed" and "all hearings across the state were compacted into five days." She added that the hearings were a "farce" because legislators were looking at their phones and not interested in the public input they were receiving. People were prohibited from submitting redistricting plans unless they were state-wide (that is, all districts in the state had to be mapped), which required a skill level that was not accessible to many people. Those who were able to submit maps were often professionals who had previous knowledge of redistricting and map-making.
Lack of transparency: Organizers felt there was little to no transparency in the process. Aside from the short notice on hearings and complex rules in submitting public testimony, the maps that were released were difficult to understand and did not have enough detail for the geographies to be properly discernable. One organizer expressed: "I didn't know if I agreed with the map or not because I couldn't read it."
Partisanship: Advocates felt legislators were more interested in gaining partisan advantage than producing fair maps. Attempts to gerrymander maps were brazen and out in the open. As noted previously, the legislature diluted the votes of Wyandotte County by splitting it and joining it with a heavily Republican rural district.
Lessons Learned:
Establish an independent redistricting commission: Kansas' redistricting process this cycle was marred with partisan bias and made no serious effort to incorporate public feedback. Advocates recommended a statewide push for an independent redistricting commission (IRC) to take the power of drawing lines away from the state legislature. IRC's often lead to maps that are more fair and less partisan than those drawn by politicians.
Provide full transparency in the process: Unnecessarily complex rules for participation and a lack of transparency in the map-making process characterized this redistricting cycle. Advocates recommended that the legislature give the public clear guidelines for participation well ahead of the start of public hearings, and materials (such as proposed maps and district demographics therein) that are clear, concise, and easy to understand.
Create meaningful opportunities for public participation and input: Despite concerted efforts to participate, organizers were met with a proverbial brick wall. Advocates stated that the redistricting body should allow the public to submit partial district maps and community of interest maps, as full district maps can require a level of skill that is inaccessible to many.