Sunshine Week: The Importance of Fighting for Open Government
Sunshine Week: The Importance of Fighting for Open Government
As Edwin Bender, the Executive Director of the National Institute on Money in State Politics recently said in an op-ed, "Transparency in our elections, our government, and our democracy doesn't just happen. It's hard work. It takes funding. It needs staff."
Such requirements may place more strain on an already busy government, but that's necessary, because freedom of information and public access to their officials are far too important to sacrifice for expediency. In fact, they are critical to democracy and to our ability as citizens to hold our government accountable for its actions.
That's why Common Cause works so hard on these issues, and why we're excited to celebrate the fifth annual Sunshine Week from March 15th-21st, 2015. This is a nationwide celebration of open government and transparency, established by the Associated Press, and marked by events and heightened news coverage on the issue of freedom of information.
In Massachusetts, Common Cause and our allies are specifically calling attention to the need for public records reform during Sunshine Week. We work on many initiatives that bring more sunshine to our state government though, and we'd like to take this opportunity to share an overview of three top priorities.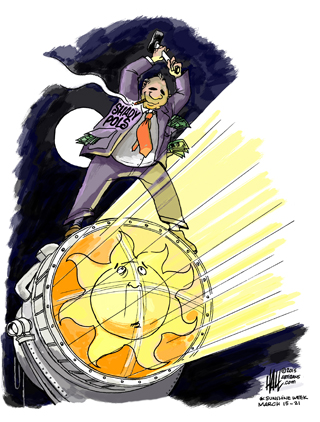 ---
Public Records Reform
One of our biggest agenda items this year is 21st century public records reform. The current Massachusetts public records law is failing, and we need to update it badly, so that citizens with a need – and right – to know what their officials are doing have the ability to find out. Records from the Massachusetts executive branch and municipalities are supposed to be public unless specifically exempt, but excessive cost, technological barriers, and administrative obstruction and delay all too often erode this right.
Massachusetts received an "F" grade from the national State Integrity Investigation for access to public information. That's unacceptable. The law needs to be changed to promote access to records in electronic form, lower costs for requesters, require attorneys' fees when access to public records is wrongly denied, and to provide a clear source for records requests. Read more on our proposals to acheive these goals here.
Rules Reform
At the beginning of every legislative session, the two chambers in the Massachusetts State House have to decide on rules that will govern their own governing process, both within their individual bodies and between each other. As part of that process, Common Cause advocates for open meetings, electronic publishing of draft bills and reports, and required notice periods for upcoming votes to give time for public commentary, among other measures. See a recent letter we sent to the Rules Conference Committee here and sign onto our statement supporting term limits for the Massachusetts Speaker of the House here.
Campaign Finance Disclosure
In addition to government reform, transparency in election funding is also critical. As Chris Gates of the Sunlight foundation recently said in a NY Times op-ed, "Disclosure is the first, necessary step on the way to ensuring that problematic public actors can be held accountable for bad action. Without first establishing a right to information, by what other route are we otherwise supposed to learn about actors' misconduct or inefficiency, or that there's a bad practice that needs correction?."
As proof confirming this statement, one need only look to the recent news about corruption charges against Senator Robert Menendez of New Jersey. Campaign finance disclosure requirements were essential in providing the information needed to establish a connection between a major donor's gifts to Menendez and the Senator's subsequent intervention in government agencies on their specific behalf.
Common Cause worked for and succeeded in getting the 2014 MA Disclose bill to promote substantially greater campaign finance transparency in the commonwealth. The new law added critical levels of transparency but there is one remaining loophole to close. Read more about these efforts here.
---