Coalition Pushes Lawmakers to Adopt Automatic Voter Registration
11.15.2017
/ By Devon Nir
Coalition Pushes Lawmakers to Adopt Automatic Voter Registration
Last Thursday, members of the Election Modernization Coalition gathered in front of the State House to call on the Massachusetts legislature to adopt Automatic Voter Registration (AVR).
Volunteers donned "Automatic Voter Registration for Massachusetts" stickers and carried signs to represent the 10 states plus Washington, D.C. that have already approved AVR. A 12th sign reading "Massachusetts!" was also added into the mix, representing the coalition's hope that our state soon embraces this vital reform.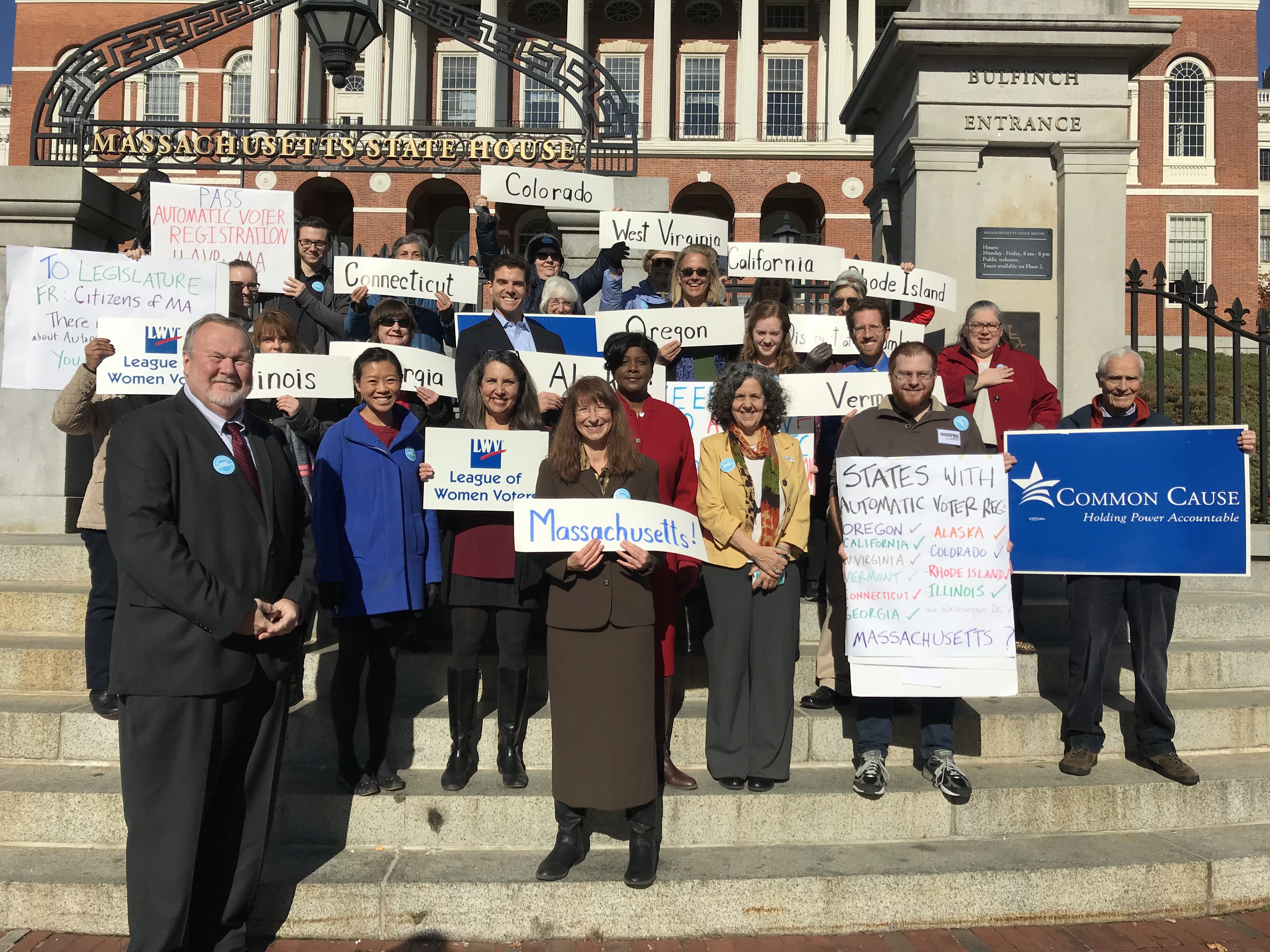 Automatic Voter Registration modernizes our elections as well as makes them more inclusive, accurate, and secure. With AVR, when eligible Massachusetts residents interact with a state agency like the RMV or MassHealth, they would be automatically registered to vote, unless they decline. Contact information for those already registered would be updated during these visits to state agencies, making sure our rolls are as up-to-date as possible.
Each member of the Election Modernization Coalition's steering committee (Common Cause Massachusetts, MASSPIRG, MassVOTE, League of Women Voters Massachusetts, Progressive Massachusetts, and Massachusetts Voter Table) took a few minutes to discuss the merits of AVR. Rep. Peter Kocot and Sen. Cynthia Creem, the lead sponsors of the AVR legislation in each chamber, also chimed in about its potential to better our democracy.
"We just had one of the lowest turnout elections ever in Boston and in other cities across the state," said Common Cause Massachusetts Executive Director Pam Wilmot. "There are lots of things we can do to improve the situation – including passing Automatic Voter Registration. Automatic Voter Registration will remove barriers for voters and make [voting] more efficient, cost-effective, accurate, and secure."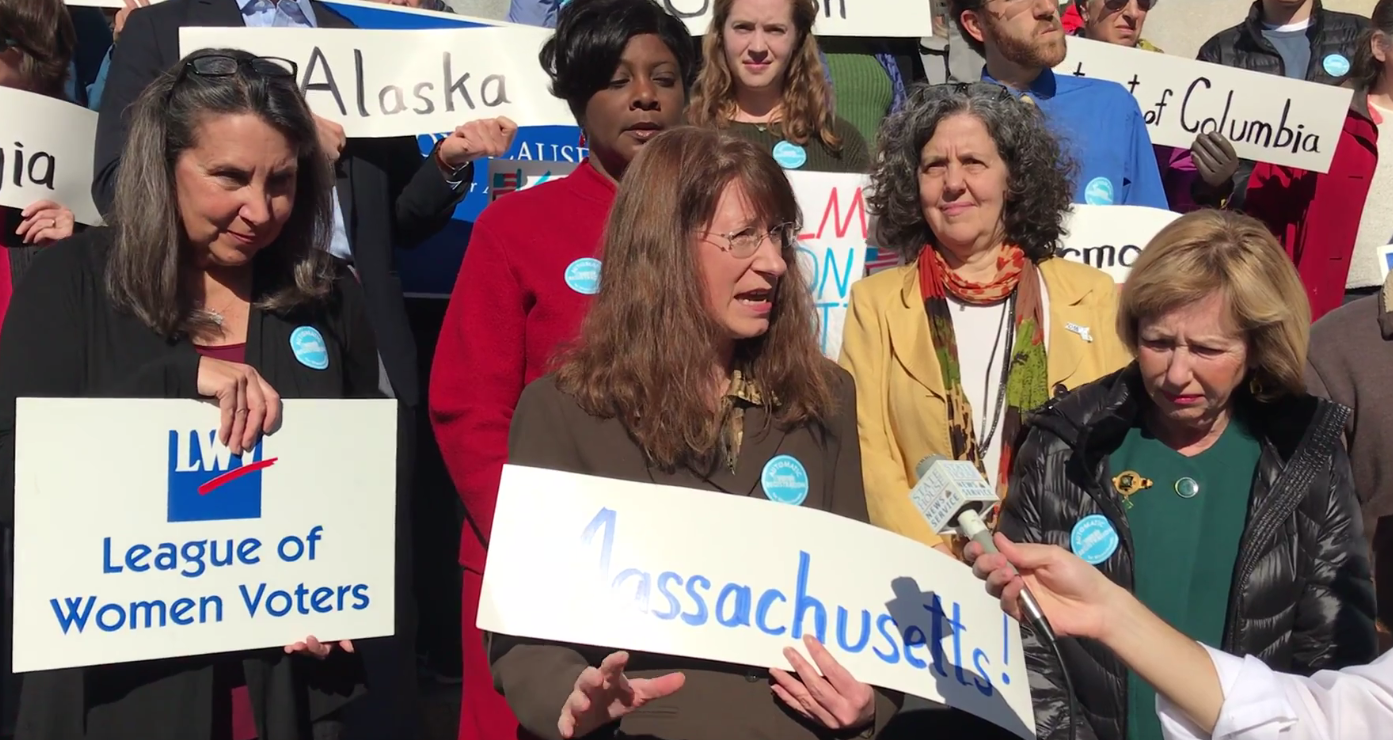 "This is one of the most commonsense bills I've ever seen," Rep. Kocot added. "The research has shown that there's somewhere between 500,000 and 700,000 people [in Massachusetts] that are eligible to vote that are not registered. This bill…gets those folks an opportunity to register and to participate."
"This is the time. I don't think it's later – it's now," Sen. Creem said. "The right to vote is a right, not a privilege."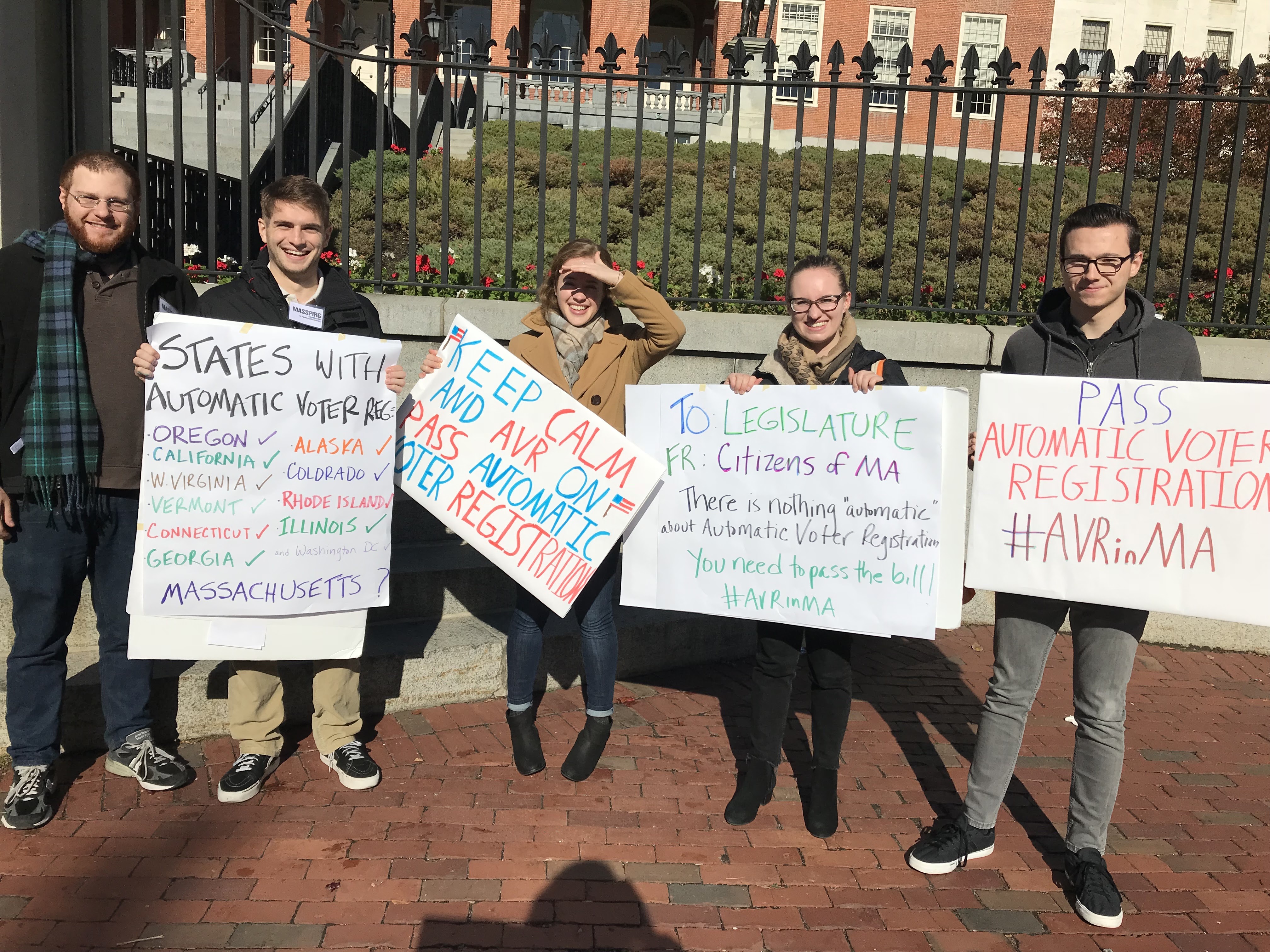 The AVR legislation currently under consideration at the State House also joins Massachusetts with the Electronic Registration Information Center (ERIC), a national clearinghouse that collects voter information and compares it to that of other state and federal databases to flag potential duplicate registrations. These added measures will help ensure that our electoral process is secure.
The House bill (H.2091) and Senate bill (S.373) proposing AVR are cosponsored by 22 senators and 80 representatives. Fifty-seven total organizations, including environmental, civil rights, consumer, community, labor, and good government groups, have endorsed AVR. We hope to bring this popular, effective reform to a vote at the State House as soon as possible!
See more photos from the event below: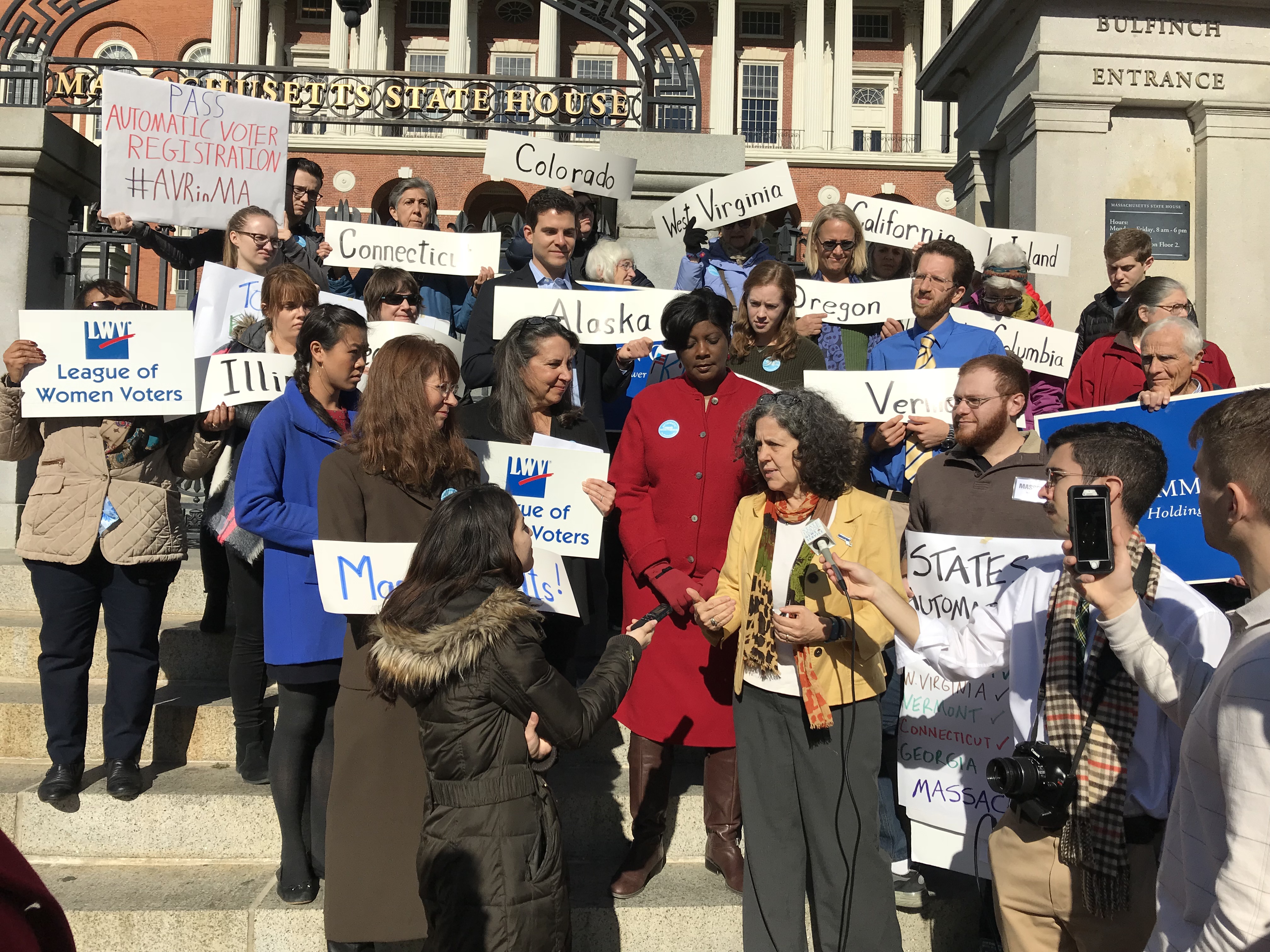 Janet Domenitz from MASSPIRG answers a question.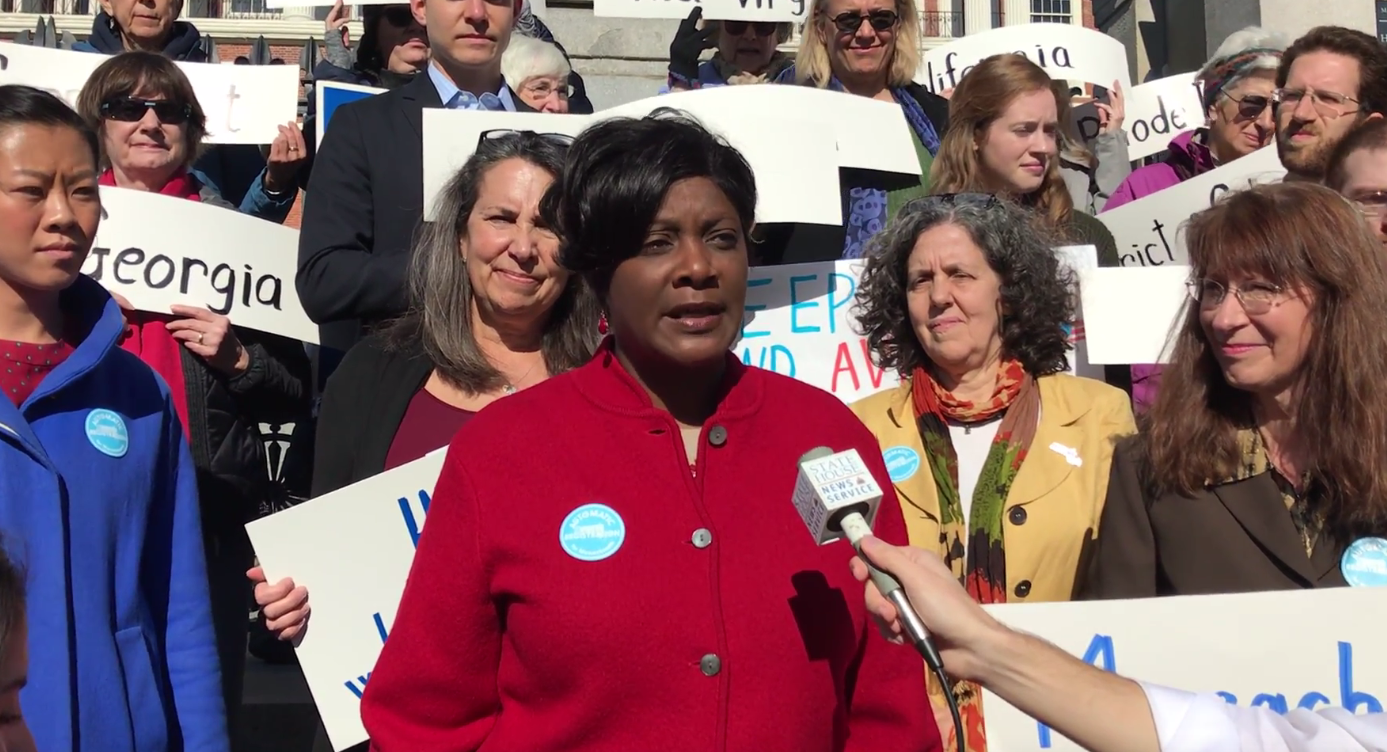 Cheryl Clyburn from MassVOTE speaks about the bill.
Left to right: Common Cause's Pam Wilmot, Rep. Peter Kocot, Meryl Kessler from the League of Women Voters MA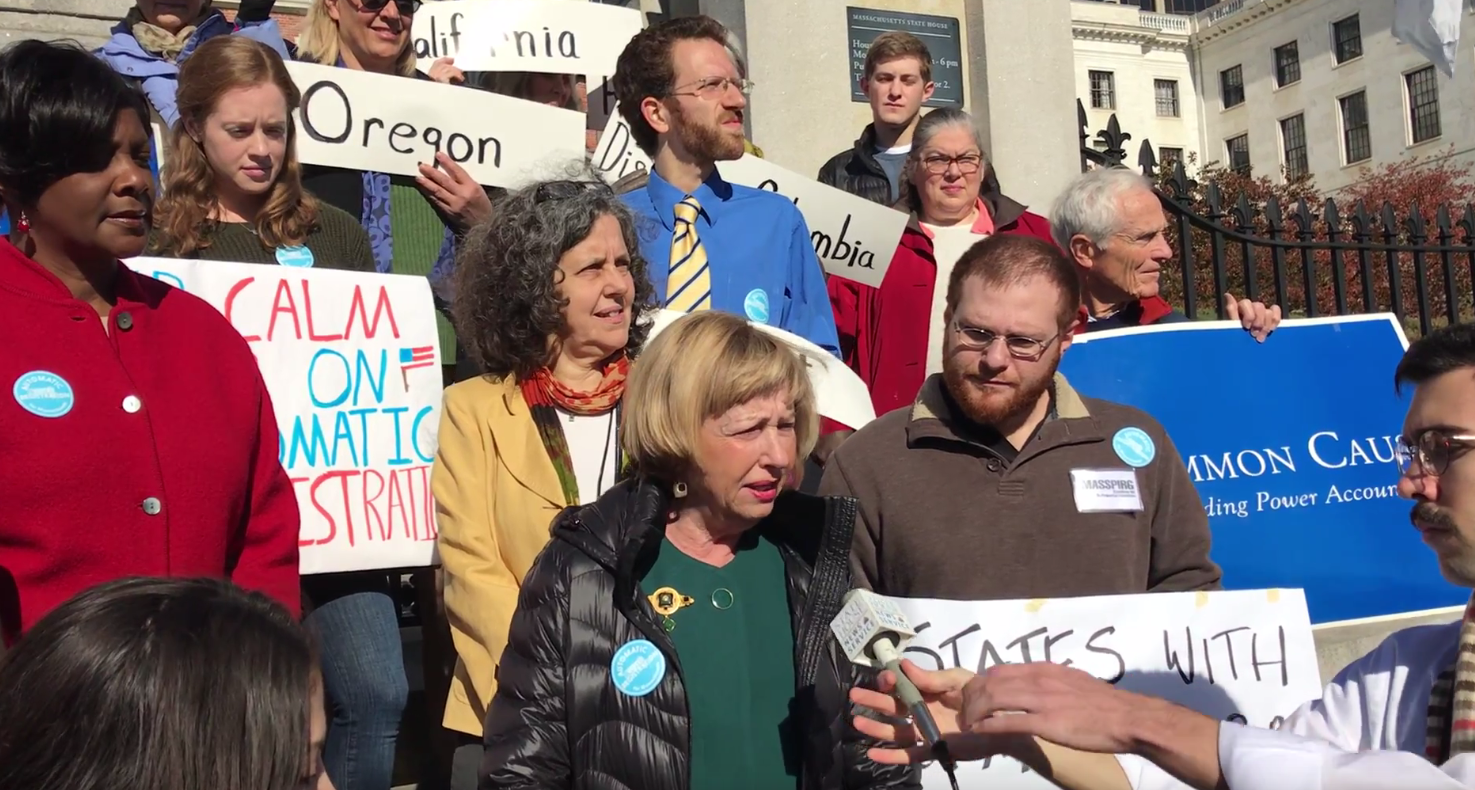 Sen. Cynthia Creem calls for action