Remembering David Cohen
Remembering David Cohen
Former Common Cause President and lifelong advocate for democracy David Cohen has passed away.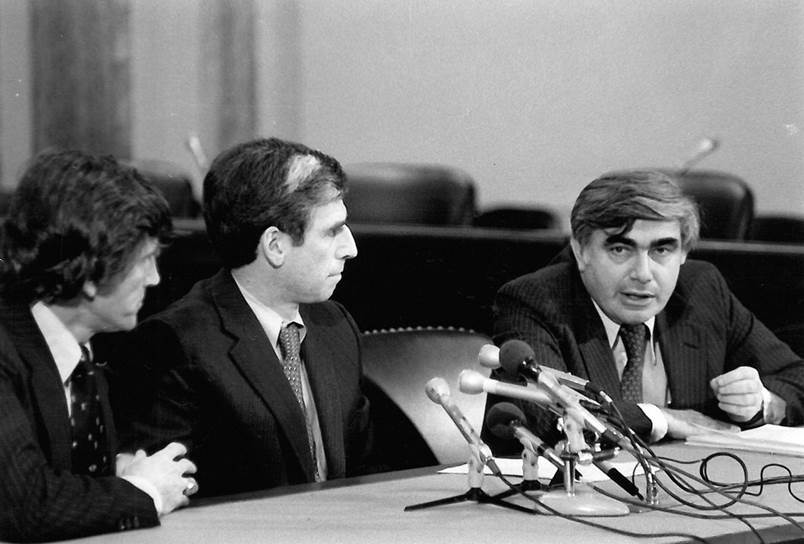 You can read more about his career and legacy here. We've also gathered tributes to David's legacy from across Common Cause below — send yours to Causenet@commoncause.org. You can also read David in his own words in this interview, or in these excerpts from his Twitter feed.
Miles Rapoport, President of Common Cause
All of the extended Common Cause family mourn the loss of our beloved former President, David Cohen.
David succeeded John Gardner, and led the organization from 1975 until 1981, leading a period of growth and effectiveness for the organization.
David was visionary in his leadership, wise in his advice, and incredibly generous of spirit both inside of the organization and out.
He never stopped caring about Common Cause, long after he left the organization. His imprint is lasting, and his presence in our lives will be sorely missed
Robert Reich, National Governing Board Chair of Common Cause
I first met David in 1972, after I had spent several months organizing the New Hampshire chapter of Common Cause at the request of Bill Dunfey, a wealthy donor to Common Cause and a New Hampshire political activist. David wasn't exactly happy with my work. "We don't have state chapters," he told me bluntly. It was my first practical lesson in politics: Make sure you line up your ducks before you do anything else.
Notwithstanding that inauspicious start, I grew to like and respect David enormously. He was a political visionary who also had a remarkable feel for the hammer-and-nail aspects of building a political movement. And he dedicated much of his life to making American democracy work better, both as president of Common Cause and as a co-founder of the Advocacy Institute. He inspired a generation of activists, whose work continues. He will be deeply missed.
Fred Wertheimer, Former President of Common Cause
David was a committed and tremendously talented public advocate who devoted his professional life to the public interest and the public good.
David was a gentle soul and a passionate advocate who worked on many social, political and international issues, got involved in many causes and achieved many successes. He lived by the words of our mentor, Common Cause founder John Gardner, that our work was not for the short winded.
David was a leader, colleague, partner and friend during our years together at Common Cause. He played a key national leadership role in addressing two of the historic events of our generation: the Vietnam war and the Watergate scandals.
David was a great teacher and loved to teach young people how to advocate for the causes in which they believed. He has innumerable "students" working today in the public interest, both in this country and internationally.
I will sorely miss David as will all who knew him.
Meredith McGehee, Former Legislative Director
I've always thought of David Cohen as the "Rabbi" of the public interest community in Washington. He was full of knowledge, wisdom and wit as well as kindness.
Although I never worked directly with David, when I saw him he always treated me as a kindred soul who shared his passion for justice while understanding that in politics, it is important to deal with — and face — reality.
David never wavered in his commitment to the public interest. His legacy at Common Cause and all of his work in Washington
May he rest in peace. And may those of us who share his values work even harder to make our world a better place.
James Shultz, Executive Director of The Democracy Center
David and I first met in the late 1980s when he had just founded the Advocacy Institute with Michael Pertschuk. Our affinity for one another was instant and he became my mentor for life. When I thought I had escaped advocacy for a bit working in an orphanage in Bolivia with my wife in 1991, he tracked me down by mail to ask me to take on a project with he and the Institute in South Africa.
When we finished that he and Mike invited me to start up a west coast office for the Institute, which lives on today as the Democracy Center. We remained friends and he served as my counselor for all the years since. I wrote to David a while back to say that the only way I could repay his support of me was to pay it forward to the young people who populate the Democracy Center today.
The legacy he leaves is so large that it extends to an entire new generation who carry a vision he began and the integrity and commitment he brought to his work and his life. I will continue to learn from him every day.
Susan Manes, Former Vice President of Research
David Cohen was a legendary public advocate who devoted his life to making his country a fairer, more open and more just society. His leadership was smart, committed, passionate and above all, principled.
Perhaps more than any other role, he cherished that of teacher. He made time for all who crossed his path and taught generations of young and not-so-young leaders what it means to be an advocate for the public good.
He was unfailing kind and wise. He was much loved. It's not just that he will be missed. He is irreplaceable.
Susan Tannenbaum, Former Common Cause Lobbyist
Like all of you, I was devastated to hear the news that we had lost David. He was such a positive force, a mentor to many, a fine political strategist and a wonderfully supportive human being to his family, friends and to his community
I remember working the Cargo Preference issue during my early days at Common Cause and I was sent to the hill with instructions to find co-sponsors for a bill many of the like minded members had given up on long ago. Common Cause had just released a study showing how many members from land-locked states had lined their pockets with money from sea faring interests so it was not exactly a popular cause on the Capitol Hill.
When I returned to the office late in the day I was a bit embarrassed to list only five brave co-sponsors of a bill to change that system. However, David called me in his office and was just thrilled and full of praise and wanted to go through every conversation I had with every member that day. He knew it was the beginning of a major victory and took such delight in helping frame and bring about some legislative change.
I will be forever grateful for all the lessons learned from David. I believe he called them "belt notchers" but he himself was an extraordinary teacher and always lead by example.
Linda Tarr-Whelan
I was saddened to hear of the death of David Cohen. He was a soft-spoken giant in fighting for true democracy.
We first met in the late 60's when I was organizing for AFSCME and we shared goals of nuclear disarmament and the need for a strong ADA.
Most of my memories of David come from his time at Common Cause and as co-president of the Advocacy Institute where I served on the board. His leadership with Mike Pertschuk at the Advocacy Institute brought forward hundreds of young activists who honed their skills and developed supportive relationships across the country.
With his wife Carla, David led the charge on progressive cause after cause that I hold dear. He will be greatly missed by all of us who want to see a more equitable and democratic society.
Tributes on Twitter
We lost a true #GiantKiller. Mourning the loss of David Cohen @mogen1, visionary leader & advocate, former President of @CommonCause

— Karen Hobert Flynn (@KHobertFlynn) November 30, 2015
Heavy hearts this morning at a loss in the Politics & Prose family. In Memory of David Cohen: https://t.co/7k0PzMFEW6

— Politics & Prose (@Politics_Prose) November 30, 2015
I mourn the loss of David Cohen.friend of 45 yrs, worked w/ him on many reforms. A wonderful life of public service, great family. Mensch

— Norman Ornstein (@NormOrnstein) November 30, 2015