New Research Shows Bipartisan Support For Money in Politics Solutions
11.23.2015
/ By Jay Riestenberg
New Research Shows Bipartisan Support For Money in Politics Solutions
A new survey by the Pew Research Center shows that the American people have major concerns with how our government operates and whether they can trust government to solve today's biggest problems. The research found just 19% of Americans trust the government always or most of the time and 59% believe the federal government is in need of "very major reform," up 22 percentage points since 1997.
Despite those discouraging findings, the research also found that Democrats and Republicans generally agree on the problem with government: the role of money in politics.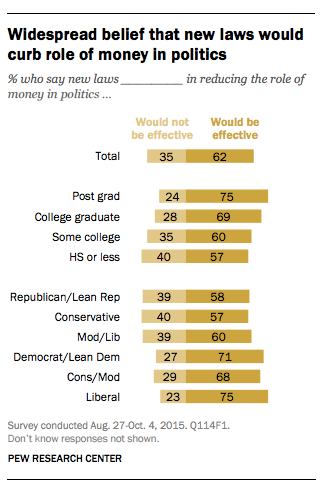 76% of Americans believe money has a greater influence on politics today than it has in the past.
64% of Americans believe the high cost of campaigns discourages good candidates from running.
This upshot is that 77% of Americans – including 72% of Republicans and 84% of Democrats – believe there should be limits on campaign spending. Perhaps more importantly, the survey found that an overwhelming majority of Americans – 62% – believe new campaign finance laws would be effective in reducing money's influence in politics, up from 51% in 2006.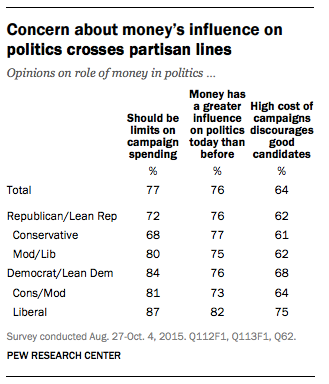 This new Pew research, along with other recent polling and research on money in politics, shows voters are eager for reform and solutions to create a government that works for them, instead of big-money special interests. That's why Common Cause and its allies have released the Fighting Big Money Agenda, which lays out real achievable campaign finance solutions including a small dollar donor based public financing system, overturning the Supreme Court's Citizens United decision, increased disclosure, and strong enforcement of the rules in place.
To meet the needs and wants of voters, as the Pew research suggests, every candidate for office, from city council to President of the United States, should take a close look at the Fighting Big Money Agenda and lay out their plans to create a more reflective and representative democracy.