Gerrymander Gazette | February 2018
02.8.2018
/ By Dan Vicuna
Gerrymander Gazette | February 2018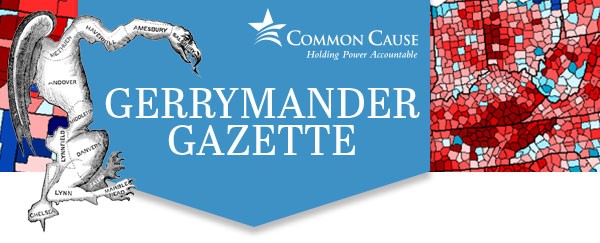 February 7, 2018
Ohio: Sometimes It Just Takes a Gentle 200,000-Signature Nudge – Legislaure Puts Congressional Redistricting Reform on May Ballot
Thanks to the collection of more than 200,000 signatures to place a congressional redistricting reform proposal on the November ballot, the General Assembly passed its own alternative proposal yesterday. Following furious
negotiations with Fair Districts = Fair Elections leaders, the General Assembly passed SJR 5 with the support of the Fair Districts coalition. The bill, which establishes strong protections against one-party control of congressional redistricting, will go before Ohio voters on May 8. Read the General Assembly's proposal here. Signature gathering to place the Fair Districts = Fair Elections proposal on the November general election ballot will continue in case SJR 5 does not pass in May.
Pennsylvania: Philadelphians Celebrate in the Streets in Anticipation of New Congressional Map (We Assume That's Why)
In a double win, the Eagles take the Super Bowl and Pennsylvania will get new congressional lines in time for the 2018 elections. The U.S. Supreme Court denied a request by legislators in Pennsylvania to stop the redrawing of Pennsylvania's congressional map following a decision by the Pennsylvania Supreme Court in favor of plaintiffs challenging the map. In a case litigated by the Public Interest Law Center, the Supreme Court of Pennsylvania ruled that Pennsylvania's gerrymandered congressional map violated the free and equal elections clause of the Pennsylvania Constitution. Despite winning an average of only 53 percent of the popular vote for U.S. House in each of the three elections since the 2011 redraw, Republicans have consistently won 72 percent of the seats, 13 of 18.
The decision made Pennsylvania state Senate president pro tempore Joe Scarnati so mad that he decided the rule of law didn't apply to him, and rejected the court's order for data its special master needs to draw a new map. However, Scarnati has a close competitor for "most unhinged response to the ruling." State Rep. Cris Dush is seeking sponsors for a bill to impeach the Pennsylvania Supreme Court justices who voted to strike down the congressional map.
The next step requires the legislature to produce a newly drawn map by February 9 and receive approval from Governor Tom Wolf by February 15. If neither performs their duty and completes the task, the Supreme Court of Pennsylvania will produce a map by February 19 in time for the 2018 election cycle.

North Carolina: SCOTUS Denies Motion to Fix Congressional Map in Time for 2018 Elections
Common Cause v. Rucho and League of Women Voters of North Carolina v. Rucho are on pause now as we await the U.S. Supreme Court's decision in two other cases – coming out of Maryland and Wisconsin – this term. In a sweeping victory, a three-judge federal district court panel struck down North Carolina's congressional map as an unconstitutional partisan gerrymander on January 9, 2018. However, the Supreme Court issued a stay of the trial court's order, which means that North Carolina legislators did not have to draw districts by January 24 as originally ordered. As a result, North Carolinians will vote in illegal districts this year for the fourth consecutive congressional election. This case started in 2016 after a different panel struck down two of the state's congressional districts as an illegal racial gerrymander in a decision affirmed by the U.S. Supreme Court. In summary, the General Assembly that drew the illegal partisan gerrymander of congressional districts to replace an illegal racial gerrymander of those districts currently represents state legislative districts that are also an illegal racial gerrymander. TL;DR it's a mess.

Maryland: Benisek v. Lamone
Last week, bipartisan and nonpartisan individuals and organizations filed amicus briefs in support of the plaintiffs challenging a blatant partisan gerrymander of the congressional map by Maryland Democrats. The Supreme Court will hear oral arguments in Benisek v. Lamone on March 28. The Court's decision to hear this casecould signal that the justices are prepared for historic action on partisan gerrymandering this term. In 2011, Maryland's then-governor Martin O'Malley and Democrats in the legislature worked together to target Republican former U.S. Rep. Roscoe Bartlett for defeat by moving Republican voters out of the Sixth Congressional District and moving far-flung Democratic voters into it. The move worked – the Democratic candidate defeated Bartlett by 20 percentage points. Briefs in support of the plaintiffs include:
In-Depth Look at Redistricting on FiveThirtyEight Podcast
FiveThirtyEight recently concluded a six-part podcast series called The Gerrymandering Project. In it, the producers travel to states that have been ground zero in the fight for fair representation. In episode three on race and redistricting, students at North Carolina A&T, the largest HBCU in the country, discuss their campus being split in two in the drawing of the state's congressional map. In episode five, we hear from Arnold Schwarzenegger, and then Common Cause's own Kathay Feng triggers an adult language warning in her retelling of California's successful effort to create an independent citizens redistricting commission.