Faces of Common Cause: Cornell William Brooks, National Governing Board
05.24.2017
/ By Karen Hobert Flynn
Faces of Common Cause: Cornell William Brooks, National Governing Board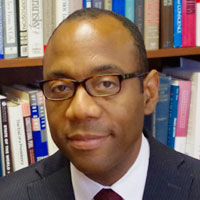 Editor's Note: This series will help readers get to know the people who are the backbone of Common Cause; leading activists, donors, staff, and state or national board members.
It's a cliché, but life is often about the journey, not the destination. That's certainly true of Cornell William Brooks, a distinguished member of our National Governing Board.
Cornell is all about life's journey.
Raised in a family African Methodist Episcopal ministers, Cornell is the fourth generation to be called to the pulpit. That upbringing set him up for academic success. As his bio states, "A graduate of Head Start and Yale Law School, Brooks considers himself "an heir" of the Brown v. Board of Education decision. Born in El Paso, TX, and raised in Georgetown, SC, he earned a B.A. with honors in political science from Jackson State University, a Master of Divinity from Boston University School of Theology, where he was a Martin Luther King Jr. Scholar; and a J.D. from Yale Law School, where he served as senior editor of the Yale Law Journal and member of the Yale Law and Policy Review."
As a lawyer, activist, and natural leader, Cornell has been fighting for social justice and civil rights his entire life. As a member of our board, he thinks big. As a regular guest on television news shows, he breaks down the most complex public policy fights in language that connects with viewers and lifts them up so they see they see their stake in the fight, whether it's about police reform, criminal justice reform, fair housing, voting rights, or the importance of citizen engagement to make sure our democracy works for everyone. As a member of the Democracy Initiative Board of Directors, a coalition of 58 member organizations with 30 million members. Cornell understands and practices the multiplying impact of strategic coalition work.
It came as no surprise then, that this creative, active, intellectual, and passionate leader inspired tens of thousands of Americans with his bold vision to bring Americans from diverse walks of life on America's Journey for Justice in 2015. The Nation magazine called the Selma, AL-to-Washington, DC march "the most important protest leading up to the 2016 election." It was an outgrowth of a series of "Justice bus tours" Cornell began in 2014, first to register voters in his birthplace, El Paso, TX; then in Missouri from Ferguson, where Michael Brown was gunned down by police in August 2014, to the state capitol in Jefferson City.
America's Journey for Justice was a logistical undertaking few leaders would attempt after being at an organization for 10 years; Cornell took it on in his first year as president of the NAACP. The 1,002-mile journey began on August 1, 2015, and made its way through Southern states to Washington and the Lincoln Memorial six weeks later September 16. Thousands of people joined parts of the march, and tens of thousands more followed the marchers online, sending well wishes along with food and supplies. In each state, rallies highlighted local activists and issues unique to that state.
Cornell Brooks was there on every mile of the journey, leading, encouraging, connecting with activists from many movements who came to support this visionary leader and this feat of logistics, organizing, passion, and social justice. He also mourned the loss of one marcher, Middle Passage, who unfortunately passed after 920 miles of the 1,002-mile journey.
Life is about the journey.
Cornell William Brooks' bold vision paid off for the NAACP. During his three years as president and CEO of the NAACP, and in large part due to the visibility of America's Journey for Justice, online membership is up 87 percent, online donations are up 820 percent and direct mail support is up 50 percent. He led the organization to at least 10 legal victories overturning voter suppression laws, and others opposing mass incarceration.
We at Common Cause are eager to see where Cornell's journey leads him next and look forward to his continued guidance and leadership as part of our National Governing Board.
###