Election Disinformation in 2022 and What We Learned for 2024
5 Key Takeaways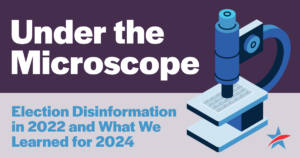 Election disinformation continues to pose a major threat to our democracy. We've taken a look back at election disinformation in 2022 and what we've learned for moving forward into the 2024 elections. Here's what you need to know.
1. 2022 was a more challenging environment for voters than 2020
This is due to:
A new industry of election-denying influencers, activists, and fake analysts 

The potential for profit and audience-building for election deniers

Profit incentives for the tech industry to relax already-inadequate standards for content moderation

Increased vulnerability of communities within information deserts
2. The Election Protection Program was successful in protecting voters from voter suppression
Some key successes include:
Common Cause

recruited and trained 2,202 social media monitors

who in total submitted 3,825 items of potential social media disinformation for review to our team.

156 Common Cause volunteers and 44 youth volunteers

gathered over 750 items of  potential social media disinformation on election day,

We inoculated our audience with pro-voter information vital to getting out the vote.
3. 2024 will present new challenges to voters
Republican candidates will continue to promote election disinformation and conspiracy theories.

It will be more difficult to rely on tech platforms to enforce their policies and protect our democracy.

Political violence may flare up in the wake of Donald Trump's indictments and a primary focused on rehashing lies about 2020.

Election deniers and disinformers are becoming more creative with their lies and manipulation.
4. Social media platforms must be held accountable.
We know what platforms need to do to reduce the spread of disinformation—they just refused, and continue to refuse, to make better choices for user safety. We must hold them accountable.
5. New legislation can help!
Senator Amy Klobuchar's and Representative Yvette Clarke's

REAL Political Advertisements Act

would regulate AI-generated content in political advertising

The Freedom to Vote Act

, which was recently re-introduced, would 

Increase access to the vote

Promote online registration 

Allow for same-day registration

Implement protections for disabled voters and election workers

Prohibit false statements about federal elections 60 days before an election that would prevent someone from exercising their right to vote.
Read our full report here.