Common Cause Georgia Backs Redistricting Reform in State Senate Hearing
02.11.2015
/ By Dan Vicuna
Common Cause Georgia Backs Redistricting Reform in State Senate Hearing
Common Cause Georgia Executive Director William Perry testified in front of the Georgia Senate's Reapportionment and Redistricting Committee this week in support of SR 23. This proposed constitutional amendment would end the practice of self-interested legislators redrawing legislative districts behind closed doors.
SR 23 would create a seven-person commission of Georgia citizens to redraw congressional and state legislative districts following each decennial census. Commission members may not be federal or state elected officials and may not run for federal or state office for two years after serving on the commission. Members will be appointed as follows.
Two by the governor (may not be members of the same political party)
One by the lieutenant governor
One by the minority leader of the Senate
One by the Speaker of the House of Representatives
One by the minority leader of the House of Representatives
One by the six appointed members, or if they cannot agree, by the Georgia Supreme Court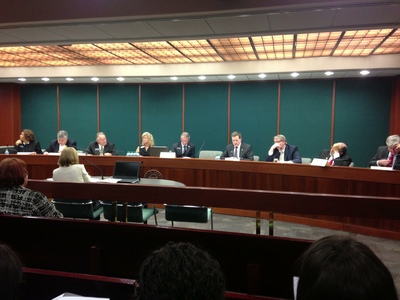 Georgia Senate Redistricting Committee
In his testimony, Perry described how the 2014 Georgia Senate elections demonstrated ruthlessly effective gerrymandering which killed competition in most races. For example:
41 of 56 Senate winners faced no opponent in the general election.
The winners in the 15 contested races all received over 60 percent of the vote.
The smallest margin of victory was 21 percentage points.
Highlighting the Reapportionment and Redistricting Committee in which Perry was testifying, he added that only four of its 11 members faced an opponent last year. The smallest margin of victory among them was 21 percentage points while the largest was a whopping 67 percentage points.