California Citizens Redistricting Commission Wins Harvard Innovation in Government Award
07.7.2017
/ By Dan Vicuna
California Citizens Redistricting Commission Wins Harvard Innovation in Government Award
The Kennedy School of Government's Ash Center for Democratic Governance and Innovation at Harvard University announced today that California's Citizens Redistricting Commission (CRC) is the winner of the 2017 Roy and Lila Ash Innovation Award for Public Engagement in Government.
Kathay Feng, Common Cause national redistricting director and California executive director, gave a presentation to the judges on the CRC's behalf last month alongside commission chair Stan Forbes. The CRC draws congressional, state legislative, and Board of Equalization districts in California based on neutral criteria and extensive input from the public. It consists of five Democrats, five Republicans, and four individuals unaffiliated with either major party. Members are forbidden from drawing districts that benefit a party or candidate and face an extensive screening process to ensure that they have no personal stake in the outcome of the redistricting process.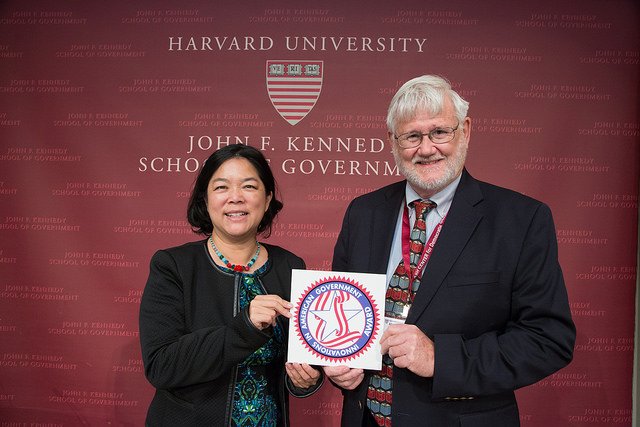 Common Cause's Kathay Feng accepted award on behalf of the Citizens Redistricting Commission.
In 2008, California Common Cause led the effort to draft and pass Prop 11 to end the political gerrymandering of state legislative and Board of Equalization districts in California. Prop 20, passed in 2010, extended the CRC's mandate to congressional districts. The award represents a growing recognition that partisan gerrymanders are, as the Supreme Court has stated, "incompatible with democratic principles" and that there is a better approach. Thanks to the success of the citizen redistricting model, states and municipalities across the country are seeking new ways to reduce the influence of self-interested legislators in the drawing of legislative districts.
Check out our campaigns in the states to end the manipulation of our districts and our map showing how districts are drawn in every state.
You can also go towww.localredistricting.org to see how the CRC inspired local jurisdictions in California to move toward a fairer and more transparent redistricting process.
###