Recognizing our 2016 "Champions for Democracy"
Recognizing our 2016 "Champions for Democracy"
Colorado Common Cause is privileged to work with fantastic individuals and organizations in our mission to create a more accountable and transparent government. But we are rarely able to take a break from our "full-speed-ahead" lives in order to reflect and honor these partnerships.
We managed to do this on Thursday, June 23 at our first annual "Champions for Democracy" luncheon and fundraiser. Six individuals were honored with a Champion for Democracy award for their hard work on a variety of democracy efforts.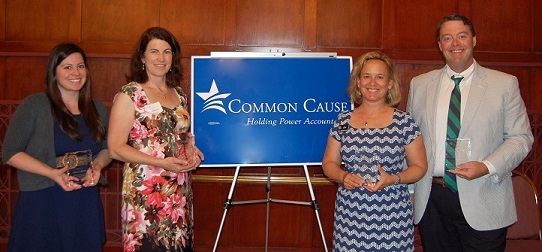 Four legislators—Representative Brittany Pettersen, Representative KC Becker, Senator Jack Tate, and Senator Nancy Todd—were honored for their bipartisan work to craft and pass HB16-1282. This new law requires funding disclosure for local school board elections, and moves us one step closer to a fully transparent and accountable campaign finance system in Colorado.
After accepting their awards, both Representatives Becker and Senator Tate praised Colorado Common Cause Executive Director Elena Nunez for her expertise and dedication to getting the bill passed.
"Elena's very good at keeping the focus on policy as much as possible, as opposed to partisan interests," Tate said. The bill passed both the House and Senate unanimously.
We were also privileged to honor Maureen Welch with a Champion for Democracy award for her work on SB16-038, which improved accountability for nonprofits that provide services to those with developmental disabilities.
Maureen began advocating for the rights of the disabled after the birth of her third son, who has Down syndrome. She accepted her award on behalf of everyone who helped advocate for the bill. She also gave special thanks to those who provide services to disabled individuals—vital work that she says often goes unrecognized.
Last (but definitely not least), we were honored to present Carla Castedo with a Champion for Democracy award for her work to register, educate, and mobilize Latino voters throughout the state. Carla is the Colorado State Director at Mi Familia Vota, a national nonprofit organization working to unite the Latino community through civic participation.
Carla is an inspiring leader and long-term partner of Colorado Common Cause, who fights passionately against legislation and other policies that would limit voting rights and make it more difficult for people to participate. In her acceptance speech, she discussed the importance of building political power in order to give traditionally underrepresented people a voice in our democracy.
We congratulate all of our Champions for Democracy, and thank everyone who attended our event. Check out photos from the event on our Facebook page, and stay tuned for future events by signing up for our newsletter.