Celebrating Sunshine Week 2017
03.20.2017
/ By Caroline Fry
Celebrating Sunshine Week 2017
Colorado Common Cause has a long, rich history of shining a light on the inner workings of government.
For our first state campaign, we helped pass the nation's first Sunshine Law—way back in 1972. This landmark legislation required elected officials to disclose their financial interests, lobbyists to report how much they spend on gifts to public officials, and—for the first time ever—required that all meetings of two or more members of any government body be conducted in public.
Almost fifty years later, Colorado Common Cause is still a champion for government transparency. In fact, our job to monitor and hold our government leaders accountable is now more important than ever.
We celebrate our history of fighting for government transparency each year during Sunshine Week. Founded in 2005, Sunshine Week is an initiative to educate the public about the importance of open and transparent government—and the dangers of unnecessary public secrecy.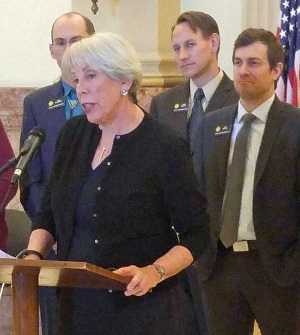 Sunshine Week 2017 started with a bang. Three new bills that would improve transparency in local and state elections were introduced into the Colorado General Assembly. Our Elections Director Elizabeth Steele was honored to speak at the press conference unveiling this new legislation (pictured right).
If passed, these bills will establish new limits for how much money can be raised and spent in political races, and provide Coloradans with more information about who is trying to influence their vote. Learn more about these bills—and urge your Colorado State Representative to support them—on our Take Action page.
We also celebrated Sunshine Week by participating in "Finding the Truth in an Age of Alternative Facts," hosted by the Colorado Freedom of Information Coalition, 9NEWS and the Colorado Society of Professional Journalists. A panel of journalists, politicians, and open records advocates discussed the troubling rise of intentionally incorrect information posted to social media, and the important role of the media to serve as a check on government power. The discussion was live streamed on Facebook and can be viewed here.
We capped off Sunshine Week with an exciting announcement: Common Cause is an official partner of the nation-wide march urging President Trump to release his tax returns. Colorado Common Cause will participate in Denver's Tax Day March, taking place on Saturday, April 15th from 10 AM to 3 PM. Mark your calendars and stay tuned for more details about this exciting event.
In our current political climate of government secrecy and hostility to the media, Colorado Common Cause is fighting back. We look forward to working with you to ensure government accountability and transparency in Colorado and beyond.