Advocating for Net Neutrality
Advocating for Net Neutrality
Thanks in no small part to celebrity news anchors like Jon Oliver, Americans of all ages, backgrounds and political persuasions are rallying to protect net neutrality.
For those of you scratching your heads and wondering what this buzzwordy-sounding term means, here's a quick breakdown.
Net neutrality is the simple idea that internet service providers (commonly referred to as ISPs) must treat all websites, applications, and other online services equally. In a nutshell, net neutrality prevents CenturyLink, Comcast, and other internet service providers from speeding up or slowing down your connection based on the online content you choose to view.
The Federal Communications Commission (FCC) addressed this issue by creating net neutrality rules during the Obama administration. However, the FCC's new chairman, Ajit Pai, has vowed to do away with these net neutrality protections. His announcement has been met with a powerful resistance—led by groups including Common Cause.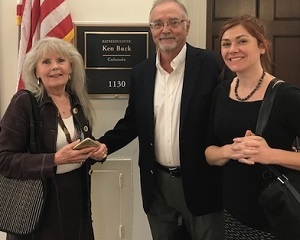 On September 29, we joined partners in Washington, D.C. for the Net Neutrality Day of Advocacy. Along with members from Fight for the Future, Public Knowledge, and Free Press, we urged our leaders in Congress to preserve strong net neutrality protections.
Our "Colorado coalition" (pictured right) met with representatives from the offices of Congressman Ken Buck, Congressman Mike
Coffman, Congresswoman Diana DeGette, and Senator Cory Gardner. We spoke about the negative impact that loosening net neutrality rules would have on small businesses, news consumers, and everyday Americans.
The Colorado congressional delegation can have a major impact on net neutrality. If you would like to schedule a meeting with your Senator or Congressperson at their local office to discuss this important issue, reach out to Caroline at (303) 292-2163 or cfry@commoncause.org.