Juneteenth Celebration and Reflection
06.19.2019
/ By Tierra Bradford, Common Cause Legal Fellow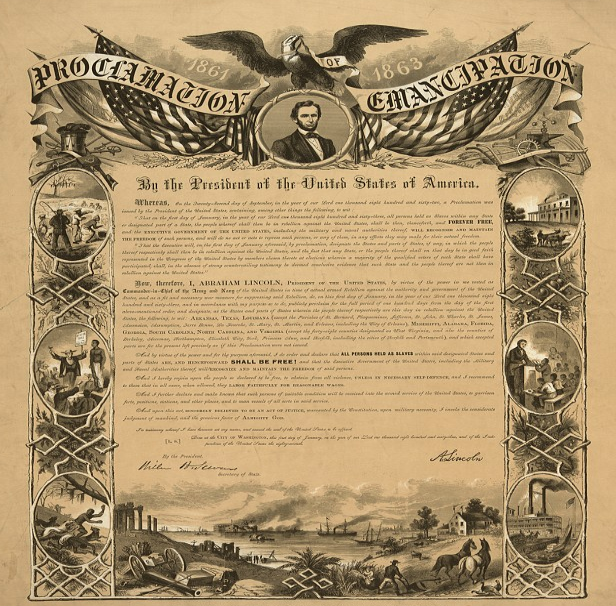 With July 4th, Independence Day, around the corner, it is important we remember that there are two days of freedom that we celebrate in the summertime. June 19th is the designated day of celebration for the abolishment of slavery in the U.S. While this day is meant to be one of celebration, it also serves as a time to reflect on the past, determine how far we have come, and how far we still have to go.
Juneteenth is the oldest nationally celebrated commemoration of the ending of slavery in the United States. U.S. slaves were freed January 1, 1863, with the reading of the Emancipation Proclamation, an executive order by President Abraham Lincoln that outlawed the practice of slavery. However, there was an intentional delay in spreading the news of the slaves' freedom. The reason behind this delay is still not clear. It could have been southern states resisting the abolition of slavery and/or Union soldiers allowing slave owners to illegally complete their harvests before forcing them to release their slaves. Either way, there were many slaves who were unaware that they were free after the reading of the Emancipation Proclamation. The reason June 19th, 1865 is remembered is that's when the last slaves to learn about their freedom were told they were free in the state of Texas, two and a half years after the reading of the Emancipation Proclamation.
Although black people in the U.S. gained their freedom on Juneteenth, the fight for civil and human rights has been a long winding road. After slavery ended, without many options, many former slaves continued to work fields as indentured servants. Indentured servants were bound by contract to work for their employers for a fixed amount of time. The work was grueling and the freedom of indentured servants was restricted, leading to the practice being essentially another form of slavery. So much so, it is made illegal under the 13th Amendment, along with slavery. However, forced servitude is still permissible under the 13th amendment if the person is being punished for a crime.
The prison industry has taken advantage of the "punishment exception" to the 13th Amendment. After the end of slavery, states passed discriminatory laws to arrest and imprison large numbers of freed black people. Incarcerated black people were then leased out or forced to provide free labor to private individuals and corporations. This still occurs today as states across the nation continue to lease out incarcerated people to private corporations. As Prisoner Rights Activist Kevin Rashid Johnson describes present-day prison slavery in Texas and Florida:
"They are cajoled into chain gangs and taken out to the fields where they are made to grow all the food that inmates eat: squash, greens, peas, okra. They are given primitive hand-held tools like wooden sticks and hoes and forced to till the soil, plant and harvest cotton."
It is also important to remember that today black people continue to be over incarcerated at disproportionate rates. So in 2019, slavery is still an issue for black people. Quite frankly, this is an issue that affects everything because it is these same private prisons and large corporations that spend millions to lobby and on campaign donations to politicians who keep these outdated and racist policies in place. This is just another example of how big corporate money is plaguing our democracy and hurting everyday Americans.
As we reflect on the past this Juneteenth, we should think about what we can do to create change. There was so much work that had to be done by abolitionists and activists in order to change enough peoples minds about slavery. The same has to happen now with how people view prison slavery and the many issues that are at the intersection of mass incarceration and democracy: the prison industry influence on politics, felony disenfranchisement, prison gerrymandering, accountability in our criminal justice system, etc. While we celebrate freedom and independence this summer, we should remember the causes we still have to fight for.