Holocaust Remembrance Day: What Happens When Democracy Fails
04.27.2022
/ By Scott Blaine Swenson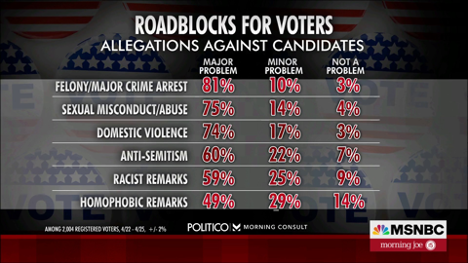 In the years between active political campaigns that I worked on in the 1990s, I worked in the media office of the US Holocaust Memorial Museum. Sara Bloomfield, the Director, captured the experience of the museum perfectly: "People come to DC to celebrate democracy. They come to the Holocaust Museum to learn what happens when democracy fails."
The last candidate campaign I worked on was in 1996, the unexpected open Senate seat in Kansas when Senator Bob Dole decided to go all-in trying to unseat President Bill Clinton. Jill Docking, a popular statewide figure as a businesswoman active in education on the Board of Regents and the wife of a former Lieutenant Governor who was the third-generation heir to a political dynasty, had a real shot to become the first Democrat to win a U.S. Senate seat from Kansas in decades. In 2022, it still hasn't happened.
Jill sounded the alarm of a coming divide in our politics, a dark and foreboding time that would see us grow more polarized if we didn't have the courage to face up to what was happening then and the ways in which people were quietly using hate to divide us. Jill's opponent, and the eventual winner, was first-term Congressman Sam Brownback.
In the final two weeks of the campaign, we started to hear reports and then recordings of antisemitic robocalls being made in Western Kansas. Jill's family was Jewish, they came from Poland and settled in Boston. Brownback's campaign used her maiden name "Sadowsky" to differentiate her from her husband's iconic name. On a day during the campaign when I was drawn into the race by a hateful fax blasted around the state by the Rev. Fred Phelps because I was gay, Jill poured me a Scotch and said, "toughen up kid, my people, we know a thing or two about hate. Hate only wins when you let it. We won't let it." But in those final two weeks of the campaign when the calls went out, we knew what it meant in terms of the polls which had been too close to call or showed Jill with a slight lead. We also knew losing an election didn't mean giving in to hate.
On this Holocaust Remembrance Day, Jonathan Greenblatt of the Anti-Defamation League notes that antisemitic incidents are at an all-time high in the United States with more than 2,700 in aggregate, nearly 1,000 more than in 1996.
Even more troubling, given the rise of two big lies perpetuated by the far-right – white supremacy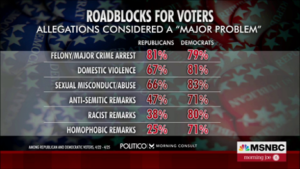 and that Donald Trump won the 2020 election – are these numbers from a Politico poll released today showing a stark partisan split on attitudes toward candidates who exhibit certain behaviors. The poll asked:
"If a candidate is accused of ____________ is it a major problem?"
Felony or major crime:
79% of Democrats say yes
81% of Republicans say yes
Domestic Violence:
81% Dem
67% Rep
Sexual misconduct:
83% Dem
66% Rep
Antisemitic remarks:
71% Dem
47% Rep
Racist remarks:
80% Dem
38% Rep
Homophobic remarks:
71% Dems
25% Rep