Gerrymander GazetTeeVee: Laugh While You Learn About the Fight for Fair Maps
09.14.2018
/ By Kathay Feng & Dan Vicuna
If you don't subscribe to the Gerrymander Gazette you should, it's a monthly dose of the fight for fair maps with a heavy dose of the funny. Yes, democracy reform is fun! And with this episode, it's Season 1, Episode 1 of The Kathay & Dan Show, the first pilot program from Gerrymander GazetTeeVee (GGTV). Some early reviews:
So that's what passes for comedy these days? — Variety

Kathay & Dan are the Sonny & Cher of fair maps — a new generation of policy geeks that laugh at their opposition, and we're certain would sing off tune if the sang. Thankfully, they don't. — The Hollywood Reporter

People have often said Washington is like Hollywood. We're not sure which town benefits from this, but it's free.  — The Washington Post

Анд ыоу тхоугхт щхат ще дид инфлуенцед ыоур елецтионс? Катхаы & Дан — нощ ТХАТьС инфлуенце, иф нот тхе Руссиан идеа оф ентертаинмент. — Правда, Рууиан Тимес, Спутник, анд еверы отхер Путин Публицатион

Translation: "And you thought that we influenced your election? Kathay & Dan — now THAT'S influential, if not the Russian ideal of enertainment" — Pravda, Russian Times, Sputnik, and every other Putin Publication.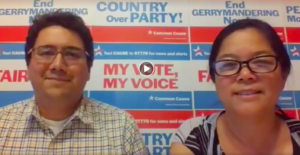 Watch the Facebook live event everyone is talking about.