Flake Commits to Probe Kavanaugh on Trump's Flouting of Rule of Law
09.5.2018
/ By Stephen Spaulding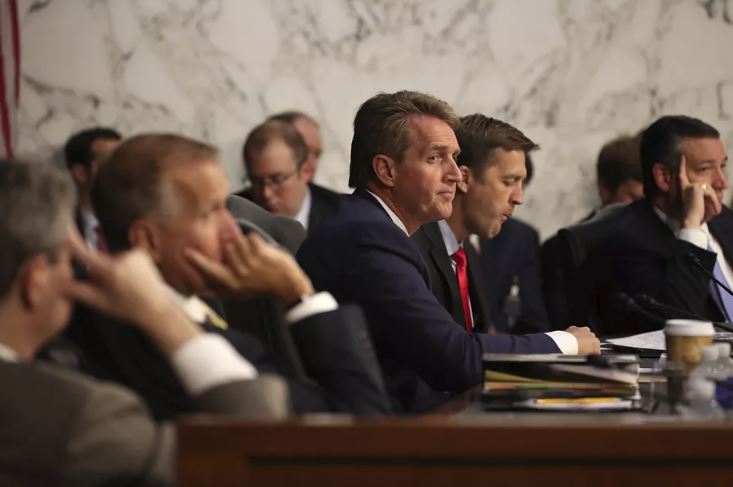 The Senate Judiciary Committee's first day of confirmation hearings to consider Judge Brett Kavanaugh's nomination to the Supreme Court was sharp in tone and substance.
Senators previewed their line of questioning during their opening statements yesterday, and it's clear Judge Kavanaugh will be asked to address his jurisprudential views on many important topics: presidential power, racial justice, reproductive freedom, LBGTQ equality, civil rights, corporate power, and more.
Many presume that the questioning today and tomorrow will be sharply partisan in tone, with Kavanaugh's defenders on the Republican side of the dais and his interrogators on the other.
Sen. Flake (R-AZ) indicated that he may not abide by that conventional wisdom. Democrats indicated that they will press Kavanaugh on questions concerning Trump and the rule of law. What is somewhat newsworthy at this divisive time is that Flake committed to probe Kavanaugh on these issues, too. Too many members of the president's party have failed to call out President Trump's dangerous rhetoric or hold him to account.
"Now I know, and it has been brought up today, that a lot of concern on the other side of the aisle stems from the concern of an Administration that doesn't seem to understand and appreciate separation of powers and the rule of law," Flake said. "I have that concern as well."
Sen. Flake then read aloud President Trump's disturbing tweet over the weekend lambasting the Justice Department for not scuttling two investigations — into Rep. Chris Collins and Rep. Duncan Hunter — because the targets were Republicans.
"Two long running Obama-era investigations of two very popular Republican Congressmen were brought to a well publicized charge [sic], just ahead of the Mid-Terms, by the Jeff Sessions Justice Department. Two easy wins now in doubt because there is not enough time. Good job Jeff," tweeted the President.
Sen. Flake predicted that "many of the questions that you will get on the other side of the aisle, and from me, will be how you view that relationship, where you believe Article One powers and Article Two powers of the Administration begin. I expect to have a number of questions on that subject."
Judge Kavanaugh's answers to these questions will be extremely probative. As Common Cause wrote to the Senate last week, "a cloud hangs over the very constitutional officer who is vested with the power to choose a person for a lifetime appointment to the highest court in our judicial system and who may later sit in judgment of them."
Americans will be listening.