Voter registration systems in many states are outdated — and countless otherwise eligible Americans do not show up to vote each year because they never got registered.
We can do better — by replacing our cumbersome, outdated voter registration process with Automatic Voter Registration.
By automatically registering eligible citizens to vote when they interact with the DMV or other government agencies, we can dramatically improve our electoral process.
This simple reform will make our election system much safer, less expensive, and more accessible. Plus, it'd significantly increase the number of eligible voters who participate in our democracy — and make sure election results more accurately reflect what the people want.
Automatic Voter Registration is just common sense — and it's already delivering major results in states across the country. Oregon and California, two of the initial states to adopt Automatic Voter Registration, have seen huge progress: hundreds of thousands of eligible voters have been automatically registered to vote there.
It's time to take this simple, groundbreaking solution nationwide. Tell your elected officials
Petition To The United States Congress
From: [Your Name]
Automatic Voter Registration would help to ensure that every eligible American has a voice in our democracy, would save states money, and would make voting rolls more accurate and secure. Automatic Voter Registration should be enacted in each and every state to modernize our outdated voter registration system.
What is Automatic Voter Registration?
Automatic Voter Registration is a law that automatically registers eligible voters through the office of motor vehicles and other government agencies. It is the best way to streamline our voting systems, while also keeping them safe, accessible, and up-to-date.
This is a commonsense choice for modernizing and securing our voter registration process. With it, we can:
Ensure that all eligible citizens get registered and can cast ballots.
Increase security of voter rolls by making registration automatic only for eligible citizens who don't opt-out of the service when getting a driving license or doing other official business with the state, so long as they're providing the agency with all relevant information needed to to establish eligibility.
Reach eligible voters – no matter their party preference – who haven't registered so that they can participate in our democracy.
Thanks in part to the advocacy of our more than 1 million members and activists, AVR already has passed or been adopted in some form in 14 states (Washington, Oregon, California, Alaska, Colorado, Illinois, Georgia, West Virginia, Maryland, New Jersey, Connecticut, Rhode Island, Massachusetts, and Vermont), plus the District of Columbia. Utah also recently modernized its voter registration process in 2018.
Common Cause helped lead campaigns for AVR in states including Massachusetts, Maryland, Rhode Island, Illinois, Oregon, and California, often with bipartisan support. We've also encouraged states to adopt the reform administratively where available.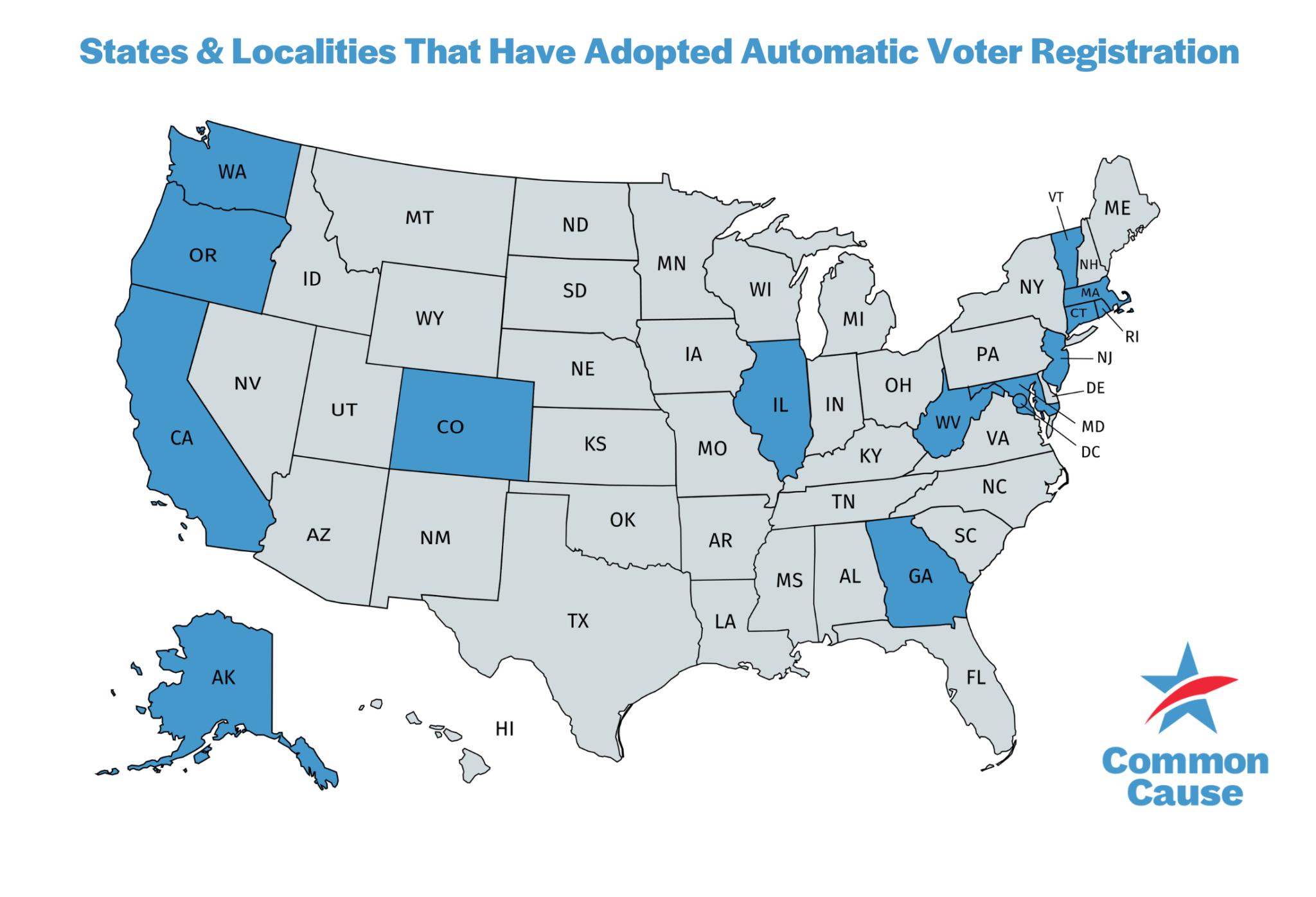 Automatic voter registration is key to increasing participation and amplifying citizens' voices in the process. Automatically registering eligible voters through DMVs and other government agencies is the best way to streamline our voting systems, while also keeping them safe, accessible, and up-to-date.
We know automatic voter registration works. The U.S. Election Assistance Commission released a report in 2017 showing that Oregon's automatic voter registration law added 375,000 new voters to the rolls in just 18 months – a 12% increase in the state's registered voters. Similarly, Vermont's automatic voter registration law registered more than 12,300 new voters in the first six months after its enactment, according to a recent report by the Vermont Secretary of State.