Presidents, governors, mayors and other executive branch officials are entrusted with safeguarding and advancing the public interest. Informed, engaged citizens can ensure that they do.
---
From the Watergate scandal, when we pushed to have President Nixon brought before the grand jury investigating his administration, to our current work calling on President Trump divest to himself of his business holdings and release his tax returns to safeguard against conflicts of interest, Common Cause leads the fight for tough ethical standards and strong enforcement in the executive branch of government.
President Trump and the Emoluments Clauses
President Trump is defying the Constitution's two "Emoluments" clauses. The Domestic Emoluments Clause bars the chief executive from receiving payments or things of value – other than his salary – from federal, state or local governments. The Foreign Emoluments Clause prohibits the president from accepting any benefits from foreign states without the consent of Congress.
President Trump controls more than 500 companies and properties. Business from state and local governments and their officials, as well as visiting officials of foreign governments eager to curry favor with the president, is fattening the profits of Trump hotel and resort properties around the world, and the Trump International Hotel in downtown Washington, D.C. in particular.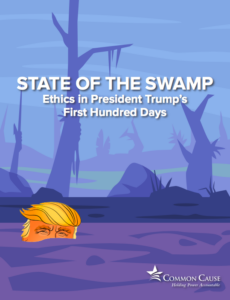 Common Cause wrote a thorough review of conflicts of interest and ethical challenges of President Trump's first 100 days in office in a report, "State of the Swamp."
Click here to read the State of the Swamp report.
Doing the Public's Business in Public
Citizens have a vital interest in tracking efforts to influence the president and his administration. But President Trump has shut down public access to visitor logs at the White House. The Mar-a-Lago Act would require the White House to again release those logs, as well as records of visits with the president during his stays at his Mar-a-Lago resort in Florida, Trump Tower in New York, and other Trump organization properties.
Hold President Trump Accountable!