Future of the Council - A discussion with the leaders of the NYC Council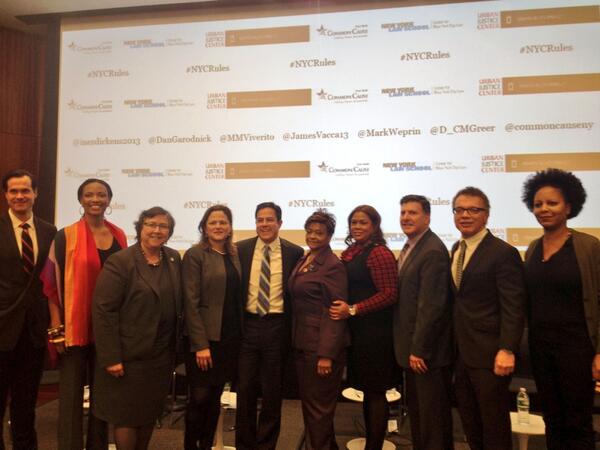 On December 2nd, Common Cause/NY, the Human Rights Project at the Urban Justice Center, and the Center for New York City Law at the New York Law School hosted a round table discussion about rules reform and the future of the New York City Council with the leading contenders for the City Council Speaker.
Participants (left to right in picture): Anthony Crowell (Dean, New York Law School), Shani Jamila (Director, HRP at the UJC), Susan Lerner (Executive Director, Common Cause/NY), Council Member Melissa Mark-Viverito, Council Member Daniel Garodnick, Council Member Inez Dickens, Council Member Annabel Palma, Council Member Mark Weprin, Council Member James Vacca, and Christina Greer (Professor, Fordham University).
Miss the discussion? You can watch a video recording of the discussion here or listen to a recording here.
---
To stay up to date on this process and other reform issues in NY, please sign up for our E-Mail list.
Before Moreland Commission found 'perfectly legal yet profoundly wrong' political activity, others raised flags
Post-Standard- 12-4-2013
Read More...
Race For City Council Speaker To Move Behind Closed Doors
NY1 - 12-3-2013
Read More...
Good govt. groups question NYC poll worker actions
Associated Press - 11-20-2013
Read More...
Comptrollers, good-government groups call for state-level campaign financing
Capital NY - 11-20-2013
Read More...
Progressive Caucus Seeks to Influence Race for New York Council Speaker
New York Times - 11-19-2013
Read More...
Lessons from Common Cause: Group shows investigators how campaign donors exploit loopholes in NY
Post-Standard - 10-21-2013
Read More...
Casino Referendum Led Gambling Industry to Spend Richly in Albany
New York Times - 10-15-2013
Read More...
New York Legislators' Secret Income
New York Times- 9-24-2013
Read More...
When Money Shouts
New York Times - 8-30-2013
Read More...
Big bucks damage democracy
NY Daily News - 8-29-2013
Read More...
Subpoenas for Albany
New York Times - 8-13-2013
Read More...
Deep Drilling, Deep Pockets in NYS: Pro-fracking interests spent $64.3 million from 2007 to 2013, Jan 13, 2014
Common Cause/NY Statement on Governor Cuomo's 3rd State of the State Address, Jan 8, 2014
Common Cause/NY statement on the election of Melissa Mark-Viverito as Speaker of the NYC Council, Jan 8, 2014
Common Cause/NY Releases Comparative Analysis of Early Voting Systems in the U.S., Dec 9, 2013
Common Cause/NY Response to Moreland Dissent on Public Financing, Dec 3, 2013
Correction to IE Spending Report, Dec 2, 2013
IE Spending Explodes in the 2013 NYC Election Cycle, Nov 26, 2013
Good Govt Groups Alert BOE about Alarming Election Day Conduct , Nov 20, 2013
Common Cause/NY Re-imagines NY Jobs Now Pro-Casino Mailer w/Top 5 Disclosure Law!, Oct 28, 2013
New "Moreland Monday" analysis: "Prescription for Influence" – Big Pharma's NYS Campaign Contributions, Oct 28, 2013
Common Cause/NY: 2nd Circuit Decision Blows Hole in Campaign Finance Laws, Oct 24, 2013
"Moreland Monday" analysis: gambling interests "stacking the deck" in favor of constitutional amendment, Oct 7, 2013
Learn More
Search